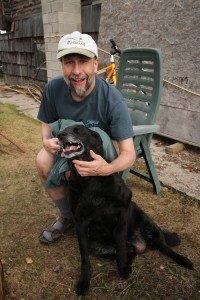 By Korie Marshall
Three units of Peter Fox's "PUPS" (Pick-Up Poop Station) have been approved by Tourism Valemount, though Fox says there are some delays in his production plan.
Fox has a plan for providing bags so that dog owners can easily pick-up after their pets on Valemount's trails and sidewalks. He presented the plan, along with a prototype of the bag dispensing unit, to the Tourism Valemount board in early June, and they've approved a trial program. They've agreed to purchase three units, for up to $50 each, and place them on the Big Foot Trail next to garbage cans, so long as the units have a year warrantee, and there is a plan to maintain them for a year, including filling them with bags.
But the first kink in Fox's plan came with the teachers' strike, since he'd planned to have students in the shop class help build them. Undaunted, he's gathering materials and clearing space in his basement workshop to do the work himself, though he finds working in the recent hot, dry weather exhausting, and of course his gardens need attention too. He's had to special-order the stain to achieve a color that will complement the wooden chess table already on the Big Foot Trail.
"I do not want to have premature wear on the PUPS owing to a thin, one-step wood staining process/application," Fox says. His will be a six-step process of prep coat, two coats of stain, three coats of UV protection, and a clear verathane with sanding between each coat. He's had to research some new products, because formulas are so different, and much less toxic and volatile than some of the old oil-based stains and finishes he is used to. But he expects the finish will withstand sun, wind and rain, and he knows from working with Alberta Parks and Recreation the importance of keeping public areas well maintained.
"Pre-existing damage was like an invitation to do greater damage," he says of his days working in the parks, noting they would keep prefinished boards ready to swap out on a damaged picnic table, to limit the acceleration of damage and decay.
He expects it will take about three weeks for the finish on his PUPS to achieve maximum hardness, and he also needs a dust-free zone to apply the verathane.
Fox's plan is that the dispensers will be filed with clean, recycled bread bags, and placed near garbage cans so people won't be tempted to just toss the bags. If the pilot is successful, he hopes more can be built by students next year, creating a potential fund raising opportunity for them. Fox sees no reason why the dispenser can't be placed anywhere dog owners often take their dogs, so long as a garbage bin is also nearby.
Tourism Valemount will consider buying more dispensers next year, in conjunction with the Valemount and Area Chamber of Commerce.