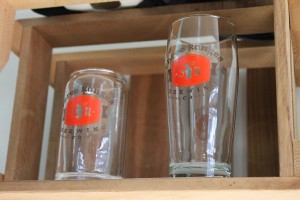 By: Korie Marshall
Valemount's own micro-brewery has been granted approval-in-principal for its lounge and patio, but owner Michael Lewis says they've still got some kinks to work out.
Three Ranges Brewing Company has applied for a Brewery Lounge Endorsement, which would allow the sale of the company's beer to patrons in a lounge area as well as on a patio.
The brewery's current license is for retail sales and a tasting room, which limits each patron to the equivalent of one glass of beer a day. The lounge endorsement would allow more than one drink but also require the sale of food and non-alcoholic beverages. It would still permit minors if they are with a parent or guardian.
The Village of Valemount endorsed the plan after a public hearing in February which heard comments generally in favour of the lounge endorsement. Lewis says he is working on the food plan right now, but was hoping to be able to serve just cold food. That way, he could have had the food prepared in a commercial kitchen and served it from a fridge and prep table, which would have kept the kitchen area to a minimum. "It is not our plan to have food be a big income-generator," Lewis said.
However the approval from the Liquor Control and Licensing Branch requires hot food also be served, so he says he has to do some planning and research of the health requirements.
Lewis says another tricky part of the license is that the patio area must be in direct line-of-sight with the current tasting room, so the patio can only be on one side of the front of the building. That also means the space between the door and the patio will not be licensed, meaning he will be required to have staff serve patrons on the patio. Lewis says he was hoping to limit the amount of serving staff he'd need, but having to serve the patio – rather than letting customers walk up to the bar for their own beverage and food – may mean he'll have to hire more staff.
The company has applied for a grant to help with the construction of the patio, so Lewis says they won't be starting the patio until he finds out if the grant is approved. He's applied to the Business Facade Improvement program from Northern Development Initiative Trust, which is being administered this year by the Valemount and Area Chamber of Commerce. He says he's hoping to start construction by the end of June.
The provincial Licensing Branch would still need to inspect after the patio is constructed and food plan is in place before issuing the lounge endorsement. Three Ranges Brewing Company opened on December 6th, 2013, and its beer is available in provincial liquor outlets as well as at local restaurants, including the Best Western, the Caribou Grill, and the Valemount Legion.