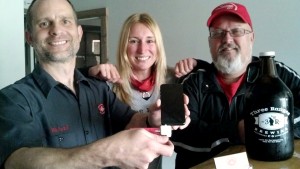 By Korie Marshall
The cause of a power outage affecting 919 customers in the Valemount area last Tuesday was not known – until it caused another outage on Friday.
BC Hydro spokesperson Jen Walker-Larsen says it looks like both outages were caused by the same piece of equipment – a lightning arrestor that was not working properly. She says the line crews had about seven kilometers of power line to assess during both outages, and after the first outage, there was no visible damage, and the power stayed on when the line was re-energized. She says the second time the arrestor shorted out, causing the second outage on Friday, there was damage to the crossbar of the power pole, so the line crews were able to spot the problem and replace it.
Valemount Community Television's broadcasting was one of the things affected by the outages. Station Manager Gord Peters says the modulator for the Discovery Channel (channel 13) was damaged and needs to be repaired or replaced. He says it is cost-prohibitive to keep spares on hand, so the channel will be unavailable until the repair is completed. YTV (channel 8) was also affected, but it has been restored.
Peters apologizes for the inconvenience, and says they will work hard to get Discovery back on the air as soon as possible.