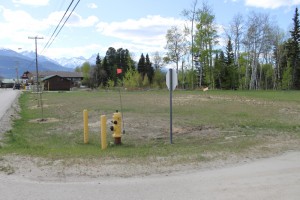 By: Korie Marshall
Valemount Council has postponed a decision on a Temporary Use Permit for parking and storage of recreational vehicles on 5th Avenue.
Evergreen Tree Movers has applied for a permit to use their property at 1442 5th Avenue as storage yard for recreational vehicles, trailers and equipment. The property currently has a garage near the rear but is otherwise vacant.
Thea Bakkor, one of the owners of Evergreen Tree Movers, is not sure yet if it will be similar to the parking for sledding tourists, like the Village tried last year across the street.
"We don't know yet," Bakkor told the Goat. "Once we have a permit then we can develop something."
She says she was aware of the temporary parking lot the Village tried over the winter, but had thoughts of a storage yard for recreational vehicles, trailers and equipment before they learned of that. Bakkor says she and her husband Hendrik already have a house here in Valemount, but their company is based in Edmonton.
The property is currently zoned R2, which only allows for single family homes, but it is within the Central Business District, as defined in the Official Community Plan. A staff report to Council at its May 13th meeting recommended that the Temporary Use Permit be denied, and the proponents be encouraged to apply to rezone the property. It says either option (Temporary Use Permit or rezoning) would likely require screening for the property, which could be a permanent addition.
At the meeting, Councillors expressed both support for a business venture and concerns over having a business run on residential property, and being taxed at residential rates.
"I like the idea of the business they are proposing," said Councillor Dallas Bullock, but she is looking for more information about what they are actually planning.
Mayor Andru McCracken agreed R2 zoning was not a good fit. Council unanimously agreed to ask the applicant for more information about the intended use.
"Is it a rental place? We don't know for certain," said Councillor Christine Latimer. "If it is going to be a commercial venture they should apply for rezoning."