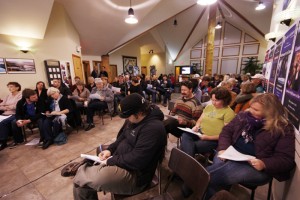 By: Korie Marshall
The Village of Valemount has announced they will be hosting their third "Community Conversations" event June 3rd.
The meeting is a forum intended to let residents give feedback to the Village about a number of hot topics, as well as for the Village to provide information about initiatives and projects to residents.
The last event in November also featured an open house with a number of community partners presenting a wide variety of information, like Emergency Management BC, the Valemount Community Forest, the Regional District of Fraser-Fort George, Community Futures, Northern Health and the Ministry of Transportation and Infrastructure. After the open house, Village staff had residents rate their top five of Council's 14 strategic priorities to discuss.
There was also a rating method for priority topics at the first "Community Conversation" in December 2012. No word yet on the format for this latest conversation.
Council and staff will be hosting the event from 7-9pm on June 3, but the venue has not yet been confirmed.
Watch the newspaper for more information.