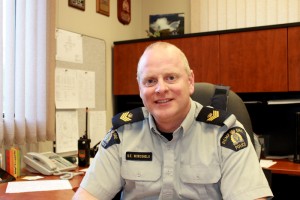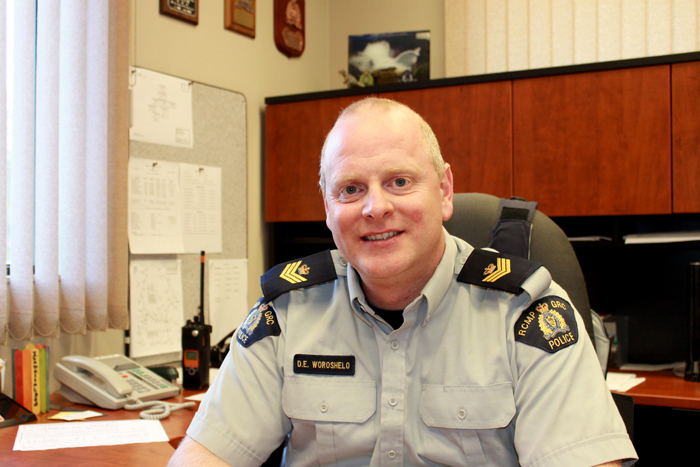 On April 20 Valemount RCMP attended a 911 call with respect to a domestic dispute on Blackman Rd. Police attended and the parties had already separated on their own. Police learned the dispute was only verbal and not physical.
Alcohol was a factor. No criminal charges are being pursued as no physical assault occurred.
On April 20 McBride RCMP were called to a report of an aggressive dog in Dome Creek. The dog reportedly attacked another dog and the owner was able to chase it away with a baseball bat. Police will continue to monitor the situation.
On April 20 McBride RCMP received a report of an attempted B&E on Mountain View Drive. Pry marks were noted on the door frame, but access was not gained. Enquiries in the neighbourhood did not result in anyone seeing any suspicious subjects in the area.
On April 21 Valemount RCMP received a check well-being report from a male in Alberta who had been unable to get a hold of his mother in Valemount. Police attended and after repeated knocks at the door the resident presented herself at the door and was uninjured. The 50 year advised she would contact her son right away to let him know was ok.
On April 23 Valemount RCMP received several reports of a vehicle off-road near Red Pass. The vehicle was involved in collision in January and the owner had failed to return to retrieve his vehicle. The vehicle was towed as abandoned.
On April 23 Valemount RCMP responded to a two vehicle collision on Hwy 5 north of Blue River. A 5-tonne truck was south bound and swerved to avoid a moose causing a north bound car to swerve to avoid the truck. Both vehicles hit the ditch and were totalled. EHS attended and both drivers were taken to the Valemount Medical Clinic with non-life threatening injuries and later released.
On April 23 Valemount RCMP located a vehicle after receiving reports of erratic and aggressive driving. The vehicle is known to police and the driver was spoken to about his behaviour. No charges are being pursued with respect to this matter as the complaint was anonymous.
On April 23 McBride RCMP stopped a vehicle as the driver was suspected of being unlicensed. The driver stated he was unaware that his licence had been cancelled and was issued a violation ticket for driving contrary to his restrictions. The driver has been directed to the motor vehicle branch to renew his licence.
On April 23 McBride RCMP received a report of a stolen pick-up truck. The uninsured vehicle was taken overnight from the residence by a male believed to have been at the house earlier in the evening. No one witnessed the theft as it occurred after everyone went to sleep. The matter is still under investigation.
On April 23 McBride RCMP received a report of a stolen snowmobile trailer with two snowmobiles on it. The trailer had a chain on the hitch and through the tires, but both were cut by the thieves. If anyone has information about this theft or any others in the Robson Valley they can contact Crime Stoppers at 1-800-222-TIPS (8477).
On April 23 McBride RCMP were notified of a theft that occurred overnight from a local mill site. Two jerry cans and a battery were taken. Surveillance video was seized from the scene and the matter is still under investigation.
On April 23 McBride RCMP received a report of a stolen generator from a residential shed. The owner did not know when the generator, a black and yellow 5500 Watt Champion, was stolen as it had not been used for several months.
On April 23 McBride RCMP stopped a vehicle matching the description of the above noted stolen truck. The truck was not the suspect vehicle, but the driver did display signs of alcohol and consumption and an impaired investigation was started. The driver, a 32 year old McBride male, failed an approved screening device twice and was issued an Immediate Roadside Prohibition resulting in a 90 day driving suspension, a 30 day vehicle impoundment, and several hundred dollars in fines.
On April 23 McBride RCMP responded to a report of a fight near the McBride hotel. Another report was received of a snowmobile travelling down 1st Avenue. Police attended but the fight had ended with two parties separating. No one could identify either of the males involved in the fight, but police suspect one friend was trying to stop the other friend from driving his snowmobile while impaired.
On April 24 McBride RCMP received a report of fence damaged by a snowmobile near the hotel. The culprits from the previous night were contacted and arrangements are being made to ensure the fence is paid for.
On April 24 Valemount RCMP stopped a vehicle for passing at a high rate of speed through the intersection of Hwy 5 and McLellan Rd. The driver, a 29 year old Edmonton male, was issued a violation ticket for unsafe passing and speed totalling $305.
On April 24 Valemount RCMP were advised of a break and enter to a motor vehicle that occurred over night a local hotel. Some gift cards and an iPhone cord were taken from the unsecured vehicle.
On April 26 Valemount RCMP received a report of a vehicle travelling north bound above the posted speed limit, driving very aggressively, and passing on double solids. Police intercepted the vehicle north of Valemount and clocked it on radar at 138 km/h in the posted 90 km/h zone. The vehicle was stopped and the driver, a 21 year old Edmonton male, was issued an excessive speeding violation ticket in the amount of $368 and the vehicle he was driving was impounded for 7 days.
A rash of B&'s has again occurred in McBride and police would like to remind the public to be vigilant when it comes to protecting yourself from being victimized. Keep your yard lit when possible as thieves do not like being seen in the light. Be sure to lock your houses, garages, sheds, and vehicles. Keep valuables out of sight and ensure that you write down and keep a record of serial numbers for tools and other valuables to assist police in tracking down stolen items. If you are going to be away be sure to have someone regularly checking on your property and have lights on timers when possible. If you see someone suspicious in your yard, or in a neighbour's yard, call police immediately. Together as a community we can protect ourselves and each other from these crimes of opportunity.
Police would also like to remind everyone that summer is approaching. The deadline to have studded winter tires off of vehicles is April 30. Any vehicles with studded tires after this date can be subject to a fine and be towed. Cyclists are also reminded that wearing a helmet is required by law and violators over the age of 15, and parents of violators under the age of 15, can be subject to a $29 fine. Please ride safely and obey all rules of the road and be predictable so drivers know what you are going to do.