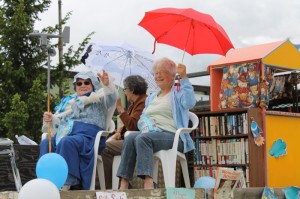 The McBride Healthy Community committee will be kicking off their Healthtacular Event at Pioneer Days.
Healthtacular is a five-year initiative by the committee to promote health and wellness and to enhance mental well-being in the community. Similar to programs in other communities like Valemount's Walk Around the World which tracks steps, Healthtacular will be tracking hours of activity. Participants will get a passport to record their hours, and can enter them on a website that is currently being developed. Residents will be able to sign up for the program, and learn about some healthy activities already occurring in the McBride area, at the kick-off event on June 6.
"Our purpose with the event is to promote all the healthy activities that are already going on in McBride," says Lori Wagner, member of the committee and one of the organizers of the event, "not just physical activities but mental wellness." She says they want to showcase the variety of things that can help bring you wellness and lower blood pressure and stress, like massage and community gardening.
"We'll also be doing healthy food demonstrations, promoting local food and what you can do with it, and how to eat healthier," says Wagner.
At the kick-off, public health staff will be on hand to test blood pressure, and there will be demonstrations of massage, aerobics, square dancing, Zumba and yoga, which will all be open for the public to join in and have a try. Also the Healthy Community committee will have their new Wii on hand to try, and afterwards it will be available for free for organizations to use at other events.
The goals for the long-term program are to reduce coronary heart disease through lowering blood pressure, reducing cholesterol and body fat, and lowering depression and anxiety. "We want to create awareness of healthy things we can be doing in the community, and bring the community together through physical activity," says Wagner.
There will be grab bags for the first 150 participants who sign up, filled with items to help you get healthier, like water bottles with the logo and measuring tapes. The committee is also looking to sign up some "Wellness Warriors" to track some key data for the program, like depression scores and blood pressure, in order to prove the program is having success. In their first bi-annual evaluation, six patients in Valemount's Walk Around the World program, showed improvement in their health scores. Four of the patients lost weight, four reduced their depression scores (PHQ-9), five lowered their blood sugar, and emergency room visits were reduced from nine to zero.
"Why participate?" asks Wagner. "It is easy, fun and empowering. It is empowering people to take control of their health."
The Healthtacular kick-off will be happening from 11am to 3 pm in the Steve Kolida Park on June 6th.