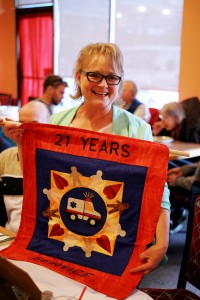 By Laura Keil
Who knew Laura Johnson's Girl Guide skills would come in handy as a paramedic?
This was a detail from a call-out whose details are still sealed, other than the fact that Johnson, former accomplished Girl Guide, used her problem-solving skills to save the day. Using her knot-tying skills, she anchored a 200ft rope to a police cruiser's brush bar to rescue a patient.
Vicious dogs, perilous roads, steep slopes… these are all hazards of the job as a paramedic. At her retirement party Monday, Johnson reflected back on her years with some awe, recounting how she had delivered babies, helped shooting victims, fought to keep the ambulance on the road in extreme weather and just sat quietly waiting.
More than 21 years ago she decided to become a paramedic after she was approached by the unit chief. At the time, she was working as a nurse at the clinic. She said she couldn't get rid of the thought – it was a new challenge.
Indeed, in rural places like Valemount, being a paramedic is having the responsibility for dealing with pretty much anything. While the ambulance crew is no longer responsible for cutting open vehicles, they still have situations where they have to improvise and use their creative problem solving skills. Johnson says more than once, a helpful semi-truck driver has pulled over to pitch in. In the city, specialized crews would be dispatched for more extreme situations like flights into the backcountry. Urban crews would also seldom experience long-distance transfers to other hospitals – and the higher likelihood of something happening en route.
"I love the teamwork. I love being personally responsible for my part in the team. Each team member is important," says Johnson, who was also unit chief for a number of years.
"I've laughed, cried, and loved, and it's the best career anyone could ever challenge themselves with."
Johnson wants to encourage anyone who has "a caring heart coupled with a healthy dose of attitude," to apply.
"The local station, Valemount station 533 is hiring, and with a class 4 driver's license, you could be on your way to an intense, amazing journey of your own."
Penny Waechter says Johnson was not only a good recruiter, she also did an "outstanding job" making sure the ambulance crew did their job and understood it.
"She made sure that if you got in that ambulance and were going Code 3 down the road, you knew as best to your ability what to do and how to do it," Waechter said.