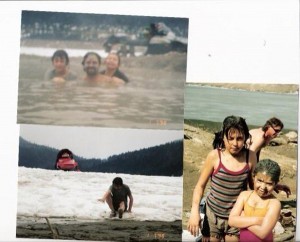 By Korie Marshall
When Valemount's mayor Andru McCracken returned from a national conference, he seemed to be even more excited about the potential of geothermal than when he went.
"We need to have our own conference, and I'd like to start the Valemount hot springs company tonight!" said McCracken via email immediately after the conference and direct-use workshop in Calgary.
The Canadian Geothermal Energy Association (CanGEA) held their annual conference in Calgary on March 27th, followed by a day-long workshop on the direct use of geothermal heat, led by Dr. John Lund. Lund is the co-founder of the Geo-heat Center at the Oregon Institute of Technology, and is a leading authority for the direct use geothermal industry, the direct application of heat from the earth, usually at temperatures between 30 and 150 degrees Celsius. Direct use geothermal is used for example in greenhouses, district heating projects, and bathing and hot pools.
"Direct use has huge potential," said McCracken at Pints and Politics on Sunday. He says it's at too low a temperature to be converted into electricity, as in the project Borealis Geopower has proposed near Valemount, but can be used directly for industrial processes. He says it's worthwhile to investigate the geomorphology – the potential for geothermal heat – in town, but he wondered what the best way is to do that. He says Lund suggested to him the idea of a geology camp – maybe Valemount would be a good spot for an interested university to set up some sort of student summer camp to help map out the resources around our community. Although he has heard the same thing a number of times, McCracken says it's good to hear it again – you don't need a hot spring in an area to have geothermal potential.
"We may have a resource under our ground that may radically reduce the cost of a business district heating system," says McCracken. "How can we continue not to have a program to systematically find out what the resource is?"
He says this may be up for debate, but he wonders if it is the municipality's responsibility to find out for the residents what the resource is under our feet. McCracken says it might start with asking loggers and other locals in the area who know the environment outside of the village. He says things like snow melting faster than usual or a bare spot in a clump of blueberries might be signs of what is below the surface.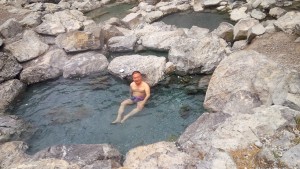 McCracken says he also got an opportunity to talk with Mike Sato, a builder of hot springs that are more natural and less expensive than the type at Radium and Banff, and to see a very natural hot spring at Lussier Hot Springs, some 25 km south of Fairmont Hot Springs. Access to Lussier hot springs is a long drive up a forestry road, followed by a dirt hiking trail, and McCracken says he asked people why they are interested in that hot spring. They told him that it's because it's more natural – it doesn't look like a swimming pool, like most hot springs. McCracken wonders if, with a little bit of imagination and a bit of investment, Valemount couldn't have something similar near the hot springs on the west side of Kinbasket Reservoir.
Alison Thompson, Chair and founder of CanGEA, says the biggest take-away from the event for her is that imagination is the only limitation to direct use businesses in Canada – not the resource quality, and not the engineering required.
"I'm personally looking forward to those entrepreneurial souls that want to build new lines of businesses in their areas." Says Alison Thompson, Chair and Founder of CanGEA, "businesses that as of yet, no one would have ever thought possible – year round greenhouses for local food, alligator farms for leather, meat and tourism, and inland shrimp and fish."
The conference also looked at the current state of the geothermal energy industry in Canada. CanGEA is a national industry association that believes it can provide competitively priced, emissions free, renewable, base-load energy to Canadians and the US export markets. It believes the geothermal energy potential in Canada, on top of the direct use opportunities, is immense – CanGEA estimates there to be well over 5,000 megawatts available with technology that is currently available and transferable from other Canadian industries like Oil and Gas, and mining. It has identified at least 4,000 megawatts available with the Alberta Favourability Map project, and expects BC's resource to exceed Alberta's.
Thompson says her overall impression from the conference is that interest in the geothermal industry is growing, but there are still barriers that need to be removed. She says CanGEA is still looking for larger membership in order to be effectively "heard" at the provincial and federal levels.