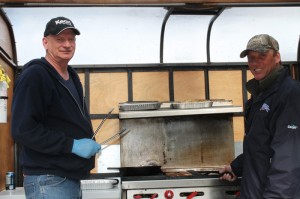 By Chris Parker
Can you imagine not having a Post Office in McBride and/or Valemount…yet such was the discussion around the table at the recent celebration of McBride`s 100 years of Postal service. Rumors flew around the table even as we ate hamburgers, bought commemorative stamps and raised funds for a new bench.
One look around the post office and you could see the postmasters or postmistresses over the last 100 years, see pictorial evidence of mail service patterns and systems of long ago. Not the least of which was Sleigh, Canoe and Sternwheeler. Then from 1913 it was the train and more recently the truck that brought the mail into McBride. The story pictorial even shared the information that the Railway version back in that era was accomplished via the use of mobile stamps that changed with each locale visited.
On Friday, April 11 the village and surrounding areas gathered to celebrate the official 100th Anniversary of the Post Office and many purchased the stamps specially designed by Mathew Wheeler for this special occasion. Available in single edition, book format and sheets the philatelists dream….a rare stamp was also available on a cancelled commemorative envelope specially designed for this anniversary.
With today's current staff heavily involved in all the organization of the festivities, other supporters such as artist photographer Mathew Wheeler, `Chefs` Jim Chiupka, Darrell Roth, and Barry Walline cooked up several hundred hamburgers all of which was done with the intent of raising the necessary dollars to purchase a park bench to be placed on the new walkway being built around the Village of McBride.