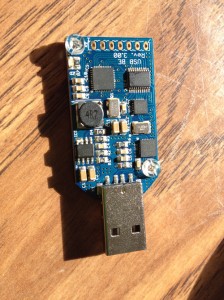 By Korie Marshall
Meet the Nerd Guild.
They are looking for old computer parts, even ones you think are no good – and what they can do with them might surprise you.
While you are talking to Mark Cowan and the folks in the Guild, you might also learn something about their other passion – cryptocurrencies, like Bitcoin.
Cowan says the Guild is trying to set up a mini computer shop, complete with tech support, offering pre-owned computers at discount prices. They don't want to see electronics go to the landfill or to be recycled in China unless they are absolutely sure they can't use any of the pieces. So how can they use your old computer, when it's too old for Windows? Because they can use parts like the power supplies, motherboards, graphics cards and other parts that are interchangeable and can be repurposed. Old computers can run operating systems like Linux, an open-source, freely available operating system that can be made to look like Windows or Mac.
They've got a Windows specialist on the team, but Cowan says his friend Gus blows his mind with his knowledge of Linux and other open-source programs. They explained that open-source software and operating systems mean that anyone (with the knowledge and interest) can read the code, and can make improvements to the software if they want. These improvements get reviewed by other users, and if people like them, they get incorporated into the programs. But if the "improvements" are undesirable – like if they open "back doors" and opportunities for hackers and computer viruses to attack – everyone else sees those "improvements," and they don't get incorporated into the software. So while using open-source software might seem like a bigger learning curve to people raised on Windows, you never have to worry about viruses – or buying anti-virus software.
The Nerd Guild is hoping to collect donated towers and laptops that you might have laying around collecting dust. They plan to use everything they can, sometimes buying new parts if necessary, and have high quality computers for sale to area residents, complete with local technical support.
The Guild's other interest is with another open-source set of programs, and a newly emerging way of securely exchanging money, without many of the fees and limits associated with banks and brokers – electronic currency, or cryptocurrency.
If you don't know what cryptocurrency is, you are not alone. The first and probably best known cryptocurrency is Bitcoin, which started trading in 2009. It is currently trading around US$500-$600 but it has been much higher. Litecoin is the next most popular, but a forum lists at least 14 major and established alternatives.
Cowan briefly explains it like this: bills and coins of a given currency used to represent a certain amount of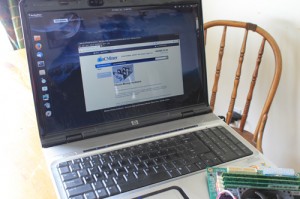 something tangible, like gold and silver. That is not so much the case nowadays, and the value of one country's currency may be constantly fluctuating against the value of another country's currency, depending on a slew of economic and other factors. A cryptocurrency is just like one more country's currency, except there is no printed version – it's all electronic. And it's not controlled by a government – it's monitored and checked by distributed computer systems all over the world, including some of the people using it.
If you just want to use Bitcoin to buy things or send money quickly and easily to anyone in the world, it is just a mobile app or a computer program that lets you send and receive coins on a peer to peer system. But behind the scenes, the Bitcoin network shares a public ledger that contains every transaction ever processed. Cowan says that makes Bitcoin a game changer, because it is possible to track every cent all the way back to its origin, which is impossible with the current cash and credit system.
The value of the coins compared to, say, the Canadian dollar may fluctuate, and you can trade on one of several exchanges around the world for dollars, Euros, or other traditional currency. Overstock.com is the first major retailer in North America to accept Bitcoin, but many small online retailers accept bitcoins and other digital currencies, and because it is peer to peer, there are lower fees than standard banking or credit systems.
If you want to do more than just use Bitcoin, you can get yourself a cryptocurrency machine and "mine" it.
Cowan says for Bitcoin you need a special chip that is super-fast, but standard computer hardware can work for other cryptocurrencies. Basically everyone's computers work together on a massive equation, and Cowan says when the others confirm that your system has successfully completed a portion of the equation, you now have digital property to sell. That is the "mining" part, because your system has done the work of creating the electronic coin, which takes a predictable amount of time and computer resources.
Building computers that can do this processing is the other project of the Nerd Guild. Cowan says they would be the only ones making cryptocurrency machines within a 400 kilometer radius.
"I am truly proud and very excited to be contributing to world-wide safe banking right here in Dunster," Cowan says.
With the ability to bring standard computers back to life and be usable, coupled with building cryptocurrecy machines and providing tech support, Cowan says the Dunster Nerd Guild hopes to have a viable technology business that combines recycling, responsible banking and safer computing. Check out their website on the Robson Valley Artisans group page (http://www.robsonvalleyartisansgroup.ca/clients/nerds.htm) or contact them by email at [email protected], or on Twitter @dunsterbitcoin.