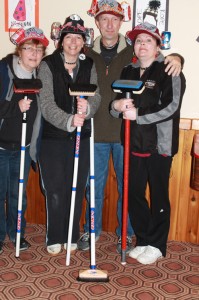 By Chris Parker
At about 5:30pm March 30, the 'A' Event reached its climax and the vanquished left the ice to return to the Curling Club Lounge. As the Taphorn team entered the lounge the gathered curlers gave them a round of applause, high-fives and congratulations. Then it was the turn of the triumphant team from Williams Lake and Dunster, Bob Beerda and his team to receive the same round of appreciation, and congratulations. The host McBride Curling Club could at least feel that they could claim some of the glory as Bob is a former resident (and Loggers Bonspiel chairman).
The complete results included:-
"A" Event
1st Bob Beerda, Ken McNaughton, Allan Leake, Monica Rohatynchuk
2nd Kevin Taphorn, Kylie Taphorn, Freda Molendyk, James Lecleir
3rd Lori Kimpton, Nelson DeFrais, Dawn Hickerty, Robert Patterson
"B" Event
1st Brad Kope, Sylvia Melnychuck, Janice Seydell, Penny Rivard, Cathy MacMaster
2nd Jen Quam, Nathen Dubeck, Carrie Krenzler, Lori Wagner
3rd Brandon McLennan, Elisha Aspeslet, Jared McLennan, Jessica Aspeslet
"C" Event
1st Lori Kimpton, Nelson DeFrais, Dawn Hickerty, Robert Patterson
2nd Milt Braaten, Shae Lyn Braaten, Warren McLennan, Rita McLennan
3rd Ralph Bezansen
1st Knockout – Bob Finlay, Tracy Magdall, Judy Stephens, Michelle MacMaster
Best Dressed – Brad Kope, Sylvia Melnychuck, Janice Seydell, Penny Rivard, Cathy MacMaster
Best Bonspieler – Bob Beerda
Each of these curlers received prizes from the wonderful display supplied by local merchants and supplemented by some of the merchants with ties to McBride. They included jackets, an outside firepit, vehicle oil, tools, cutting boards, vehicle jack, coolers, lamps, etc.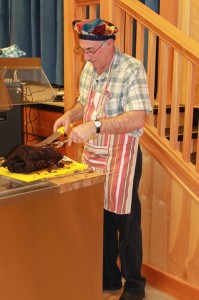 As soon as the winning team entered the lounge, a wonderful highlight reel of pictures and memories was playing on the screen (thanks to Stu Philpott), so that all those involved could reminisce about the event and be reminded about the end that got away, or the spectacular shot that was made. In that category perhaps the news highlight reel would have shown the 5th end of the C event final when third Shae Lyn Braaten from Crescent Spur made two spectacular shots to change the end dramatically. Lori Kimpton the skip of the opposing team was overheard congratulating Shae Lynn and told her 'that was as fine a shot as would ever be seen in the Brier' – evidence of the camaraderie that was mixed with the sportsmanship that has come to be a feature of this long time event.
The event featured a Mad Hatter Theme, and the traditional banquet on the Saturday evening was then followed by the dance. The event was organized by Danielle Allan and her team of volunteers, many of whom were members of the Chamber of Commerce, the sponsors of the event, which has run for approximately 30 years. It is traditionally held at the end of March and is a prelude to the ice being taken out of both the curling and skating rinks. Can the sound of lawn mowers be far behind?