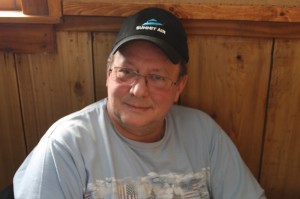 Story and photos by Chris Parker

March 1 saw the seasonal opening of the Robson Valley Indoor Market in McBride with many of the same vendors as last year. Wares include diamond willow in many forms from lamps to bed headboards and walking sticks; baking; plastic models; old china crocks and kitchen utensils; used books; jams and preserves; and an assortment of knitting and crocheting. Even more vendors are anticipated in the weeks ahead.
Barbara Jackson who presented the concept to our community last year promises many of the fun activities on and around the building over the season including another plant sale come spring, a big hit last year.
Another vendor present on Saturday was Betty Long who provides a cross section of books ranging from theological texts to novels in both soft and hard bound.