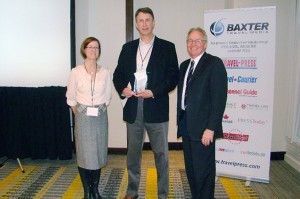 By Korie Marshall
Canadian Mountain Holidays, a heli-skiing and summer adventure company with lodges near Valemount and McBride, has been recognized for its commitment to socially, economically and environmentally responsible practices.
"We as a company are undertaking a wide range of environmental and community initiatives throughout our operating areas, and in the communities where our staff live, work and play," says Dave Butler, Director of Sustainability for CMH. "That is, I believe, why we were recognized with the national award."
Butler was in Toronto last month to accept the Responsible Travel and Tourism Forum Leadership Award. One of three presented yearly to Canadian travel and tourism companies by Baxter Travel Media, the Leadership Award is sponsored by Air Canada and recognizes companies that have "demonstrated commitment to socially, economically, and environmentally responsible practices."
In the Robson Valley in particular, Butler says CMH is working closely with the Ministry of Environment and other organizations on the mountain caribou recovery program.
"We have a very detailed set of procedures and protocols in place that ensure we allow the animals to make decisions about where they want to be," says Butler. "We then change our flying or skiing so that we do not displace them from those habitats."
He says they also do the same with other key species such as mountain goats and wolverines.
CMH also hosted local Search and Rescue volunteers and Emergency Management BC staff for a full day of joint training, and although not in the rescue business, Butler says they've already responded to three separate EMBC call-outs this winter. They also provide food to local events such as VARDA's poker run last month, and Family Day activities at Camp Creek recently.