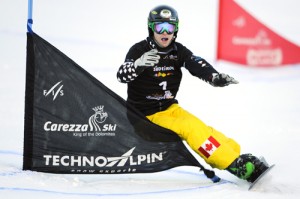 By Laura Keil
Valemount's Matt Morison was beat out of his two Olympic events last week, failing to qualify for the round of 16 in snowboard parallel slalom, and being eliminated after round of 16 in his other event, parallel giant slalom.
Morison's combined time of 59.96 seconds for two runs in Parallel Slalom ranked him 18th. He was just 0.16 seconds behind the 16th and final qualifier, Canadian Michael Lambert.
Morison has lived and worked in Valemount for two summer seasons. The 26-year-old's dream to fly brought him to work for Yellowhead Helicopters and this fall he was endorsed as a pilot, having completed his apprenticeship.
He has won numerous medals from the World Cup, the first gold in 2007, Morison's latest victory was a silver at the 2013 World Cup in Switzerland. When Morison made his Olympic debut at the Vancouver 2010 Games, he hoped to stand on the podium for his country. But an injury before the Games prevented that. In December 2009 he broke his left elbow but he still finished 11th at the Olympic Winter Games 23 days later.
Morison previously told another media outlet that the Sochi Olympics would be his last.