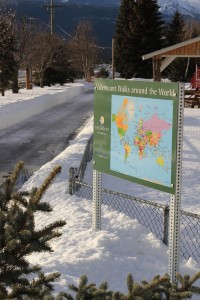 By Korie Marshall
Valemount Walks around the World program is taking it indoors this winter – and proposing a walk to Kamloops for coffee.
Since last May, 94 members in the program have walked over 53,000,000 steps – over 40,000 kilometers in their goal to walk the circumference of the earth.
Starting on January 28, members and anyone who wants to join them can walk inside. Every Tuesday at 2 PM, the Canoe Valley Recreation Centre will be hosting walkers, and the goal will be to "walk to Kamloops for coffee."
"The arena offers a safe, dry place to walk and will be a great social outing as well as great exercise," says program organizer Hollie Blanchette. It takes nine laps of the arena to make a mile, and it is just over 200 miles to Kamloops, so that is about 1828 laps of the arena. If all 94 members get involved, that would be less than 20 laps each, and if others help out, it will be even less.
Anyone can join the Walk to Kamloops for Coffee program, and you can sign up for Valemount Walks around the World while you are there. Everyone who signs up will get a water bottle, and there will be a chart at the rink to track progress on the walk to Kamloops and the walk around the world for those involved.
For more information, contact Hollie Blanchette at 250-566-9095 or email [email protected] She says "this is a fun, social time with some exercise on the side!"