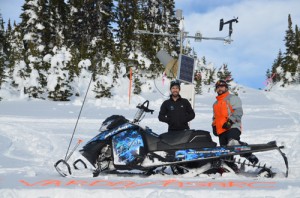 By Korie Marshall
A new weather station at Clemina will help prove a Swiss snowpack model works here in BC. If it does, the model will be one more tool for better avalanche forecasting.
"I think the problem with avalanche forecasting in areas like the north Rockies is that you have no data to validate it," says Michael Schirmer of the University of Calgary's Applied Snow and Avalanche Research (ASARC) team. He says without data and observations, you really won't know if your forecast was good, and there is just not a lot of data for vast areas of BC's mountains.
The ASARC team's goal is to improve methods for forecasting, mapping, assessing and mitigating avalanche risk, and Schirmer says they think they have a snowpack model that will help. If the model can deliver a true profile of the snow, it will help the experts predict avalanches better. But they need data to prove the model works.
The model, called "Simply Snowpack," was developed 15 years ago in Switzerland and has been extensively tested and proven there, but it was unclear if the model could be applied to the climate here in Canada's mountains. Schirmer says they have been able to validate the model over the last two years on Mount Fidelity in Rogers Pass, because there is a lot of data available there. But now they need to check that it works for areas that have different snow climates from Rogers Pass, like on the coast or south of Valemount, for example.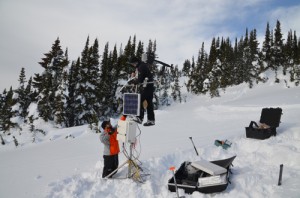 "If we test in different snow climate zones, and we can say it works in all of them, then we can also assume it works somewhere we have no data at all," says Schirmer – like in vast areas of the northern Rockies, for example.
Schirmer was in Valemount over the weekend to install a new weather station in the Clemina Creek sledding area. Staff from Valemount and Area Recreation Development Association (VARDA) was on hand to help with the installation, and will be helping with maintenance of the station as well as collecting real time snowpack and weather data for the rest of the season. ASARC is also running weather stations this winter in places like Marmot and Bow Summit and has partnerships with a number of other organizations who collect weather data in a variety of locations across the province.
Data collected at the Clemina station will soon be available through a link on VARDA's website, which will show graphs similar to those on the Yukon Avalanche Association's website.
Schirmer says he hopes to continue working with VARDA for another few seasons, but that is dependent on funding for the research programs. He is also working on another research project which would use the snowpack model and historical data to actually predict avalanches.
But for now, he says they just want to prove the model predicts the snowpack correctly.