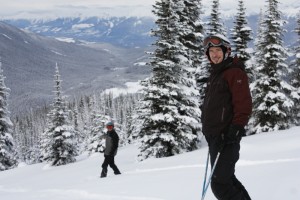 By Korie Marshall
Two more ski runs have been cut on Crystal Ridge, expanding the unique snowmobile-assisted ski area.
Curtis Pawliuk, general manager of Valemount Area Recreation Development Association says there is room for more ski runs in the future, but for the next few years VARDA wants to concentrate on perfecting these runs and access routes, and hopefully getting the access trail groomed.
Crystal Ridge's six ski runs give 12,000 vertical feet of skiing over approximately 12 km of total trail length. Each run is about two kilometers and about 2,000 vertical feet. It is located a few kilometers south west of Valemount, and is the first snowmobile-assisted ski area in North America. Pawliuk says they have had lots of inquiries from other communities about how to create one.
Pawliuk says grooming for the access trail is still a future prospect for now. They were hoping to have the proper sized groomer for the access trail this season, but it is looking like it might be maintained on a volunteer basis again this year, with a snowmobile and grooming drag.
There will be no mandatory fees for the ski area again this year, but users are encouraged to become VARDA members and to donate at the kiosk in the staging area to help with maintenance.
VARDA received $45,000 this year from Columbia Basin Trust's Community Initiatives and Affected Areas Program, which went toward maintenance and brushing of about 12 kilometers of the access route, and cutting the last two currently planned trails. The work went out to tender and The Source Tree Service that has cut all six of the trails.
VARDA's website says that Crystal Ridge is definitely not "extreme" skiing, but the opportunities are endless for the adventurer, with opportunities for amazing powder turns. Young and beginning skiers and boarders can hone their skills using the lower drop off points of some of the runs.