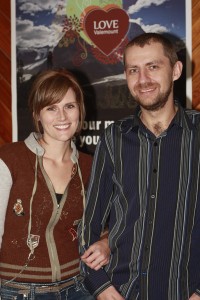 Last week's Love Valemount event, which celebrates small locally-owned businesses, was a fitting occasion to meet two of Valemount's newest entrepreneurs.
Angie and Bart Larsen moved to town in September from Edmonton with four of their five children.
"We wanted to move to the mountains," Bart said, adding that they felt they could contribute something to Valemount's economy.
The couple plans to open a variety store – what Bart describes as a cross between a Fields and a Future Shop – as early as December.
The family owns several stores in Edmonton where they focus primarily on electronics, including laptop and cellphone repair.
They plan to stock the store with kids' clothing, winter coats, electronics, household items, accessories, and will offer electronics repair. They have set their sights on a 5th Ave location and hope to be open by Valemount's late-night shopping Dec. 6th.
Since the Fields discount store closed in 2012 and the Country Wide variety store closed in 2011, there has been a gap in available local products. Stores like Mountain Bargain discount and second-hand store have helped to fill the gap with clothing and miscellaneous products.
The Variety store will bring back to downtown some needed services and products.