By Laura Keil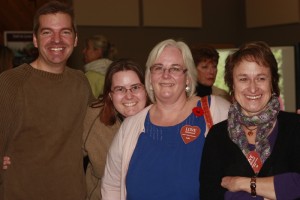 A new program to promote locally-owned and independent business launched last week with a website and a new local currency.
The "Love Valemount" initiative is a similar venture as the original "Small Town Love" which was set up by Amy Quarry in Quesnel. Now the Quesnel initiative is piloting elsewhere in BC, including Valemount.
The website profiles 35 local businesses that were part of the initial intake. The businesses must be locally-owned and operated in the Valemount area and not part of a franchise. Participating businesses had their photos taken professionally, a write-up done about the business owner and services, and a listing of services and products on the Love Valemount website.
The website will be another way for customers to find information about these businesses, some of which are home-based and do not have a website.
At the launch event last week, Love Valemount Dollars were given out as prizes to businesses and attendees. Village planning intern Katy Fabris says the dollars are similar to regular dollars in that you can use them at any participating Love Valemount Business and will be treated as cash. The dollars are good until May 2014, and can be redeemed for cash at the Village Office.
At the launch event, Mayor Andru McCracken spoke in support of the initiative.
"I think it's awesome to celebrate what's already here. We have a lot of small-scale businesses. Is that smallness a weakness or a strength? I think it's a strength. We end up with really funky and cool services."
Valemount is one of six communities in BC in the pilot program. The others are the District of Logan Lake, the District of Fort St. James, the District of 100 Mile House, the District of Vanderhoof, and the Village of Burns Lake. Each of the six communities has a population of less than 5,000 residents.
Northern Development's board of directors, made up of elected representatives and provincial appointees, approved a $75,000 budget for the pilot program, or roughly $12,500 per area. While many economic development initiatives concentrate effort on developing new business, the buy-local program focuses on enhancing the strength of existing businesses.
The partnership will operate as a pilot while looking toward the possibility of an ongoing program. Love Valemount has a web page where more information can be found.