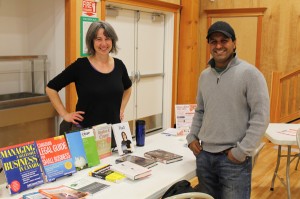 This first ever Small Business Expo event was sponsored by the Chamber of Commerce, as an opportunity to introduce the members of the Chamber to all those who support and encourage their efforts. Organized for the Chamber by Clara Appleby the event was held in the Community Centre on Columbia Street. Representatives included Village of McBride, the Economic Development Office, Regional District, Community Futures, Chambers of Commerce Insurance for Small Business, McBride and District Library, United Way, and the McBride and District Chamber of Commerce. In addition several local businesses, also had booths, including DK Debt Solutions, Giggling Grizzly, Sentinel Newspaper and the Bank of Nova Scotia.
The Chamber of Commerce used this opportunity to test a number of potential promotion pieces, particularly some touques to sell to the sledders when they come in over the winter. Our Library used the event to demonstrate a selection of new small business books currently available as a resource to the business community. Others such as Debt Solutions introduced themselves and their programs to the local community while the Sentinel introduced some of their new staff. The Giggling Grizzly in their attractive fall booth also demonstrated some of the new clothing items that they will be selling in the run up to Christmas.
A multi media show at the event included a television program featuring Arlene Dickson of Dragons Den fame, who was featured discussing Small Business concerns. Coincidentally, several of the library books on display also featured celebrities from the same popular television show.
The McBride & District Chamber of Commerce has grown to 63 members this year, several of whom attended the event to speak to people at one or other of the booths. This active organization also helps with a number of Community programs including Canada Day celebrations, Pioneer Days, First Responders Appreciation, and the maintenance of Horseshoe Lake Park. They also were responsible this year for the launch of the new McBride Chamber website, which features all the local chamber members.
By Chris Parker