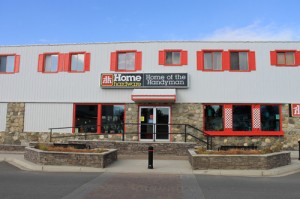 Valemount Council approved a Development Permit last week for a local business to update their brand signage, even though it violates the the Village's Design Guidelines.
Home Hardware is situated within the Central Business District Development Permit Area as defined in the Official Community Plan. Justin Hooke, owner of the Home Hardware, has applied for a Development Permit to update the signage on the exterior of the store, in compliance with Home Hardware's branding.
Steve Shaunessy, manager of Store Design for Home Hardware Stores Limited, said in a letter to the Village that exterior branding and signage for all Home Hardware stores is a registered trademark and may not be altered in any way.
"The Dealer in Valemount must comply with the branding specified or will risk significant financial penalties," said Shaunessy.
The signage is red and made of metal, and both the color and material are discouraged in the Design Guidelines of the Official Community Plan. Hooke has proposed building a stone garden area with flag poles at the south-east corner of the building, which would help soften the visual impact, and is encouraged in the Design Guidelines.
Requiring the Development Permit offers Council a chance to consider aesthetics of a project and potentially impose conditions based on the Design Guidelines for the area listed in the Official Community Plan. No consultation with the public or neighbours is required, and nothing inside the building is considered. According to the Official Community Plan, the Central Business District is the commercial core of Valemount; the Village's objective in establishing the Development Permit Area is "to ensure the form and character of future development is of high visual quality that enhances the visual nature of the surrounding mountain environment."
Council directed staff at the Oct. 8th meeting to issue Development Permit 03-13 with the condition that the proposed flower and stone display with flag poles is installed by the fall of 2014.
By: Korie Marshall