Women's libbers. Loggers. Farmers. Bombers. It's 1983 in B.C. Loggers' Daughters explores small, nearly insignificant, moments that accumulate to become catalysts of change in ordinary lives.
It's a place not far from here. Inhabited by people living in the Rocky Mountain Trench. Farming and logging are the primary industries. The year is 1983.
While Valemount writer Maureen Brownlee studiously avoids the question of what her first novel is "about," she drops a few hints. "Loggers Daughters" will be on the shelves for sale in November.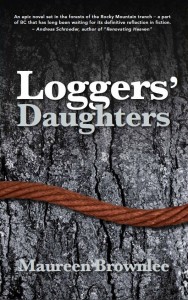 One of the central themes in the 220-some page book is the complexity of family relationships – how we navigate these, despite our imperfect knowledge other people.
"What we don't know about our family also complicates the relationship," she says.
Another theme is the way knowledge is shared – not just from older to younger.
"One of the things I wanted to think about and talk about is the way knowledge is transmitted forward and backward," she says. "Everybody has things to teach and things to learn. It's more web-like than hierarchical."
The daughter of the main character has gone off to University in Vancouver in the 1980s. It's women's liberation and there's marching in the streets. The daughter brings home knowledge that is useful to the mom, and she takes forward knowledge that's useful to herself, Brownlee says.
"It's partly about a mother-daughter relationship. Also about the relationship between people and the land. Between brothers and sisters. Fathers and daughters. We all have a lot of relationships in our lives. We're all more than one thing."
It's a place and a time and a people that's underrepresented in Canadian literature, Brownlee says. The novel structure is traditional, however, written in third person with a single main character.
She says her hope is that the story will carry people from beginning to end.
The first-time novelist grew up in Dunster and went to school in McBride. After that she spent time in Arrow Lakes, Prince George and then Valemount, where she lives now. Brownlee worked in journalism for a decade before turning to fiction about 10 years ago. She says being a writer is what she always wanted to do.
In 2008 and 2009, Brownlee worked on a Bachelor's of Fine Arts in creative writing through the University of Northern BC and the Emily Carr Institute.
In 2011 a short story that later became a chapter of her novel won first place in a writing competition. She completed a draft of the novel in Dec. 2011 and it was accepted in spring 2012.
She says she is already working on her next book – but provides few clues to it yet.
Brownlee will launch her book at Maria's Book Fair Nov. 9th in Valemount at the Caribou Grill. She will have another launch at the Dunster Hall Nov. 10th at 7pm, and at the McBride & District Library Nov. 12th at 7pm. The book will also be available online at major book sellers.