Water levels on Kinbasket are expected to reach "full pool" this year, and could potentially go one foot above the normal high water level.
There is a huge volume of wood left over from incomplete logging activities when the valley was flooded in the 1970's and from new erosion and slides each year in various creeks. That debris can get blown around the surface of the reservoir, and often gathers on the shoreline as the water levels recede throughout the winter. Higher water levels mean that much of that wood debris will again become a concern to boaters and recreational users of the reservoir, as the debris clogs access sites and creates a hazard for water craft.
BC Hydro is ramping up their debris management program on Kinbasket Reservoir this summer in anticipation of higher than normal water levels.
Jennifer Walker-Larsen, Stakeholder Engagement Advisor for BC Hydro, says they have funded close to $4 million of debris work on Kinbasket Reservoir since 2007 to improve reservoir recreation. To date the program has removed over 300,000 cubic metres of woody debris – about 7,500 logging truck loads.
Using about $90,000 remaining from last year's debris management program, BC Hydro had local debris management contractors from Golden and Valemount working earlier this year to remove as much shoreline debris as possible.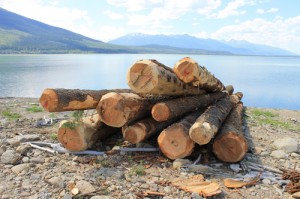 BC Hydro is now planning a water-based debris removal program to remove additional debris expected due to the high water.
Although inflows in to the Columbia River are expected to be average this year, BC Hydro is running fewer generating units than usual at Mica Dam to safely allow work on replacing aging switchgear at the facility. BC Hydro expects to complete the Mica switchgear project later this year.
Kinbasket Reservoir is expected to reach its normal full pool of 754.38 metres (2,475 feet) and may rise up to an additional 1 foot above full pool in September/October. Additional water may be released from Mica dam's low level outlets (spill) between now and October. Depending on the amount of debris, BC Hydro expects to fund up to $600,000 of debris work this year.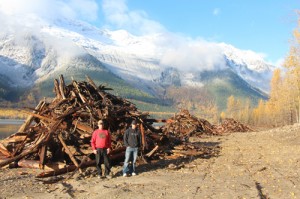 In the water based program, debris is collected by two large tugs that tow a string of floating boomsticks between them. Boomsticks are 40 foot long logs that are joined together to form a boom. The tugs will corral floating wood within the boomsticks and then tow them to holding areas where the wood will be stored and later removed. BC Hydro purchased an additional 100 boomsticks to prepare for this year's water-based program.
By: Korie Marshall