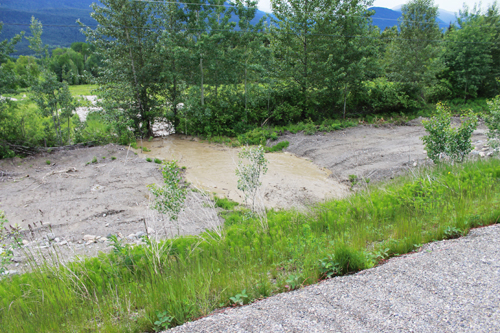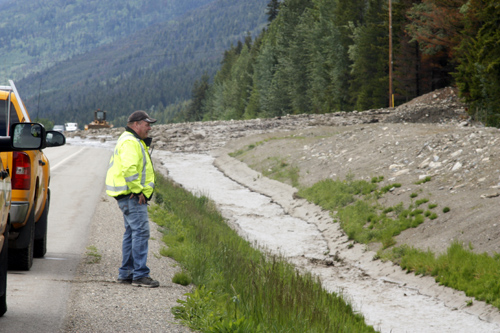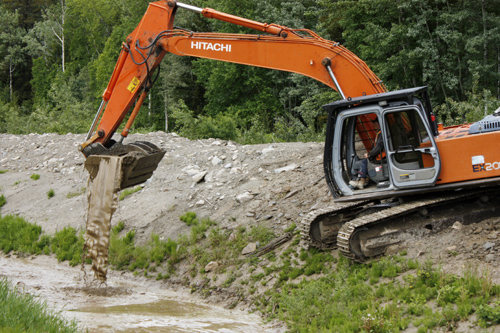 For the third time in less than a year, Leona Creek has disrupted traffic on Highway 16, just north of Tete Jaune, on Friday June 7th stranding travelers and locals alike. The RCMP warned Friday afternoon that the slide could get worse, and highway maintenance staff warned it is an active slide area.
However, by 7:30pm the road was open to single lane traffic again.
The slide was reported to RCMP around noon and Lakes District Maintenance trucks and machinery were on site Friday afternoon working to keep a culvert south of the slide clear for water to flow under the highway and across private fields. Muddy water still appeared to be flowing over the highway as well. Ditch banks on the west side of the highway repaired after last year's events are not yet covered in grass.
Last year, in June 2012, Leona Creek broke its banks twice in a week, shedding rock and mud across the highway and stopping traffic in both directions. On the second occasion, the highway was closed for nearly 24 hours and then opened to only one lane while repairs continued. That event also caused the evacuation of Christa Maxeiner from her house next to the creek, her first evacuation in the 22 years she'd lived there. She has not been allowed to move back into her house and is now living in Valemount.
Local motorists were using a backroad that connects Dunster to Tete Jaune Cache (approx. 40 km) but it was reportedly very muddy and dangerous due to recent rain and heavy traffic.
Check out www.drivebc.ca