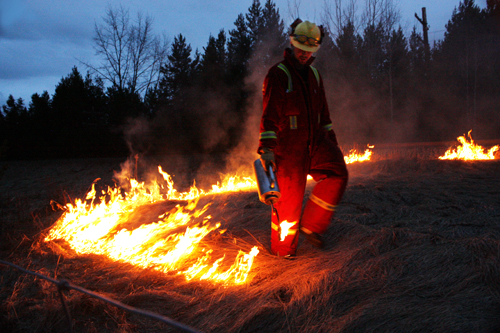 A controlled burn along the CN rail tracks will hopefully decrease the chance of fire in town.
The burn was a partnership between the local Valemount fire crew, CN and the BC Forest Service.
Valemount Fire Chief Rick Lalonde says the last major fire along the tracks happened a couple years ago and burned from Jackman Flats all the way to Valemount.
Another fire was accidentally set by two children last year and burned a swath of dry grass along the tracks across the tracks from the Valemount Library.
Ray Mickelash, Wildfire Protection Officer for the Robson Valley Fire Zone, says in addition to the fire smarting, the provincial fire fighting crew and the local fire department did cross-training exercises to prepare them for emergencies when they might need to work together. Mickelash says getting to know each other's equipment and protocols were part of the training.
The Valemount Fire Department was busy with three real fires over the weekend, all caused by burn piles that got out of control. Lalonde warns residents to keep a water hose or water supply nearby when burning debris in their yards and not to burn on dry windy days. He reminds residents that as of May 1st they will need a burn permit from the Village before they make a fire.
This slideshow requires JavaScript.