Shopping local can really pay off! "I Shop McBride" is back in swing this year. It is a McBride & District Chamber of Commerce initiative to encourage local shopping and rewards businesses and shoppers for participating.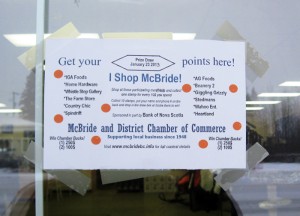 Each of the participating businesses contribute $50 to be part of the campaign. This year we had 13 participating businesses, the 12 listed businesses plus Bank of Nova Scotia.
Of the $650 collected, $450 will be awarded in Chamber bucks to three (one of $250 and two of $100 each) lucky winners who must redeem their Chamber bucks at the listed participating businesses.
The remaining $250 is used to cover administration and costs associated with the promotion (printing cards, advertising, etc). At the end of the campaign, we count the cards collected and calculate the estimated amount spent/kept in McBride. Each card has 10 boxes to be validated, representing a shopping value of at least $100 when fully validated. Validation requires a purchase of $10 or more, so for a $14 purchase, you get one box validated; for a $29 purchase you get two boxes validated by the merchant.
When the business accepts Chamber Bucks, they turn them into the Chamber for reimbursement. So if a store redeems $90 in Chamber bucks, they give those bucks to the Chamber and the Chamber issues the merchant a cheque for $90.
Chamber executive members do not participate in the program (to avoid perception of conflict of interest). Last year 1712 cards were put in drop boxes representing a minimum of $171,200 spent locally. The campaign runs to January 15th and the draw is January 23 at the Chamber AGM.
Submitted by Linda Fry