Ever wanted to own an electric car? You may get your chance, after the Province announced Valemount will get three electric vehicle charging stations, thanks to the B.C. government's Community Charging Infrastructure (CCI) Fund.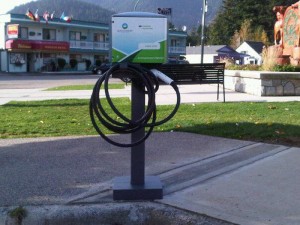 The province is subsidizing 145 new Level 2 (240-volt) charging stations in various communities across B.C. One station will be installed by the Best Western Plus Valemount Inn and Suites, and the other two stations will be installed by Tourism Valemount to be located at the Visitor Information Centre.This brings the total number of CCI Fund-supported charging stations in the province to 418.
Organizations receive 75 per cent of the cost through the fund, up to $4,000 per station, to purchase and install the stations. The charging stations and their installation can cost anywhere between $700 and $10,000, depending on speed and sophistication.
The Village could sell the service through a self-serve station, similar to a parking meter, said Village Councillor Christine Latimer at a September Council meeting. The revenue could then be put into village coffers.
Latimer is also the general manager of the Best Western Plus Valemount Inn and Suites, where one of the meters will be installed, purchased by the hotel chain.
According to BC Hydro, agencies setting up charge stations cannot charge directly for the power – they must instead charge for the "convenience" of the station, for example by charging for the
parking spot in front of the charger.
According to BC Hydro, an average charge, based on current rates, should cost less than one dollar per day. This works out to be approximately $300 per year if charged daily. However it takes a lot longer than a normal vehicle to fully charge the battery – anywhere from 25 minutes to eight hours.
Depending on the vehicle, the car's range could be anywhere from 40km to 400km before it needs to be recharged. .
Anyone can buy and operate a charging station. The next closest charging stations to Valemount that are being funded by the provincial Community Charging Infrastructure Fund are located in Kamloops – eight stations at Thompson Rivers University and one station at the Kamloops Visitor Centre. Prince George – two stations at the University of Northern British Columbia and one station at Nedco and two stations at Thompson Rivers University in Williams Lake.
ICBC currently insures electric vehicles at the same rates as non-electric vehicles.
By 2018, there will be at least 500,000 highway-capable plug-in electric vehicles on Canada's roads, according to a report from the Canadian electric vehicle industry in 2010.
The CCI Fund is managed, administered and promoted by the Fraser Basin Council. The purpose of the fund is to support a province-wide network of charging stations. All stations must be installed by March 31, 2013.