McBride will hit screens across Canada on Dec. 16th at 7 p.m. as CTV airs its television movie "The Horses of McBride," inspired by a real rescue that took place four years ago this December.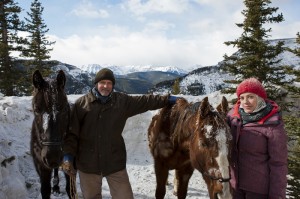 In December 2008, two horses were abandoned on Renshaw Mountain near McBride.
The mare, Belle, and gelding, Sundance, had been left their by their owner after they gotten stuck in heavy snowfall. The horses were frost-bitten, starved and near death when two snowmobilers discovered them.
The next morning, four McBride residents went back up the mountain with a bale of hay, a handgun and a heartbreaking choice to make: either feed the horses, or shoot them.
The four agreed: there was an undeniable glimmer in the horses' eyes. The decision was made to feed them. But saving them would require a lot more than hay. Many people from McBride and the
surrounding area pitched in to dig a three-foot-wide, six-foot-deep, kilometre-long tunnel that became Belle and Sundance's route to freedom.
The ensuing rescue took roughly eight days and temperatures dipped to -30 and -40 while the horses were dug out. It was a heroic tale that was picked up by media outlets around the world.
The movie follows a somewhat different plot line with cowboy-outfitter Matt Davidson (Aidan Quinn) who has decided to sell his family ranch and find work in the city. His wife Avril and son Kenny have embraced the move, but his daughter Nicki, who dreams of being an outfitter and mountain guide like her dad, is shocked and angry. It's late December 2008, when two starving horses are discovered high up on the Rockies, trapped in a six foot-deep prison of snow more than 30 miles from any road. After seeing the spirit in their eyes, Nicki commits to getting them off the mountain – somehow. With no other options, she picks up a shovel and starts to dig out the mile-long path in deep snow, inspiring her father, family, and an entire community to pitch in.
"A perfect fit for the holiday season, the story of McBride is a wonderful re-telling of how one family, and eventually an entire community, rallied together to save the lives of two helpless horses," said Phil King, President, CTV Programming and Sports.
"We're very proud and fortunate to be part of this beautiful story," said Executive Producer Frank Siracusa, Whizbang Films. "It's a story about real people with real courage and true spirit."
Anne Wheeler agreed to write and direct the project, and in researching the story, she spent considerable time with the Jeck family in B.C, who were instrumental in the horses' rescue.
In casting the equine "stars" of the film, the producers found two emaciated horses with the support of the SPCA, and nurtured them back to health under the watchful eye of legendary wrangler John Scott. The mare's name is "Lady", rescued near Cochrane, Alberta. The gelding, "Slim", was found near Penticton, B.C.
One of the rescuers Birgit Stutz says she hopes people understand that big things can be accomplished if people work together, no matter their background – there were snowmobilers, horse-back riders, people that liked animals, and people who just wanted to help.
After the rescue, Belle and Sundance were adopted by families.
Encore presentations of The Horses of McBride air Wednesday, Dec. 19 at 9 p.m. ET on Bravo and Friday, Dec. 21 at 8 p.m. ET/PT on CTV Two. The Horses of McBride will also be available across CTV's digital platforms following its television broadcast on CTV.ca, the CTV App, and the CTV Mobile channel.