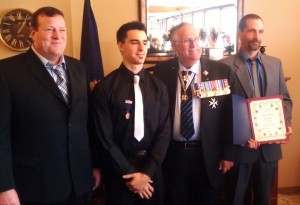 On November 12, 2012 three Valemount citizens were recognized for their bravery. Len Chisholm, Marc Lohse, and Tyler Fowler were presented awards at the Edmonton(Alberta) Police Headquarters.Honorary Testimonial Certificates were presented to Len and Marc, and Tyler recieved a Bronze Medal.
Bronze Medals are granted when the recipient has shown extraordinary disregard for personal safety and Certificates are awarded to brave persons where the risk wasn't as great.
In spring 2012 Tyler Fowler and Dion Lefebvre attempted numerous rescues at the scene of a multiple vehicle accident in Boyle, Alberta. Tyler and Dion pulled people from burning, mangled vehicles. They pulled unconscious, injured, and unfortunately lifeless people from the wreckage. They received injuries from their rescue attempts.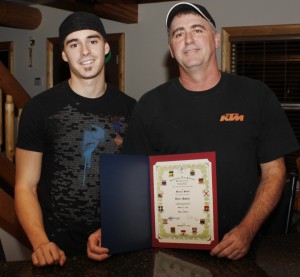 Marc and Len rescued Paul Lorieau from Kinbasket Lake in the summer 2012. Paul Lorieau was also present at the ceremony. He expressed his gratitude to Len and Marc for his rescue. Convinced he would not be alive if not for their actions.
The ceremony was fascinating. The recipients and dignitaries were piped in by The Edmonton Police Pipe Band. The Honourable Donald S. Ethell, Lieutenant Governor of Alberta presented the awards. There were 26 recipients awarded certificates or medals. I heard many selfless acts of bravery. After the ceremony was an informal luncheon. Everyone was given an opportunity for pictures and conversation with the Lieutenant Governor of Alberta.
Each recipient commented how humbling it is to be rewarded for their actions. They felt it was what had to be done with no hesitation.To them their reward was the overwhelming feeling of well being for doing the right thing.
Congratulations to Len Chisholm, Marc Lohse, Tyler Fowler and all the recipients recognized by the Royal Canadian Humane Association. You selflessly called to action your inner strengths. Your integrity, compassion and humanitarianism deserve recognition.
Submitted by Kerry Lynn Fontaine