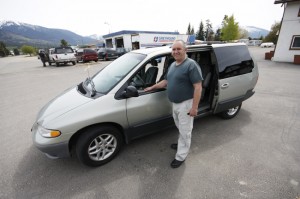 Valemount Taxi has applied to increase its fleet size. Owner and driver of Valemount Taxi, Rick Korejwo, wants to expand his fleet from one car to three, and plans to hire more drivers to provide 24/7 coverage for the area.
Korejwo has been using one van to service the area since he started his company last spring, and he is extraordinarily busy. I had to make three different appointments with him before he had the time for an interview. The taxi driver's life is a busy one, and with more taxis on the road, he will have more time on his hands. However, a busy life isn't the only reason he wants a fleet expansion.
Korejwo says one of his main objectives in the expansion of his fleet is creating new jobs for valley residents. Someone with either a class four, class two or class one driver's licence and a safe driving record is required for the job. The new drivers will be paid above minimum wage because Korejwo thinks that minimum wage isn't enough for a person to sustain a family. He then went on to say that minimum wage isn't enough for a person to live off, as it is just enough to exist.
Before he expands his fleet however, Korejwo has to submit his proposal to the BC Passenger Transportation Board, which oversees all taxi and public transportation companies in BC. Once the
board receives his proposal, they will assess why he is asking to expand. The Village of Valemount and the RCMP will also weigh in. The Village of Valemount has already sent a letter supporting Korejwo's application. Korejwo says he is very grateful to council for giving it to him.
Korejwo didn't have an estimate when it came to the number of people that used his taxi on a daily basis. The numbers vary so much that the average number of people that used the taxi was impossible
to estimate, especially because the number of people using the taxi differs from season to season. He says it makes it extremely difficult to predict future trends.
The May long weekend marks the one year anniversary of starting his company and when that date comes, he will be able to provide more accurate details about yearly trends.
Korejwo says his prices will not change with the expansion, and he is proud to say his rates are very low compared to larger city centres.
Korejwo says the taxi expansion is required because there is not enough public service when it comes to transportation in Valemount, especially now that Greyhound's schedules are decreasing.
Valemount Taxi also handles deliveries.
John Kenkel
Student Reporter