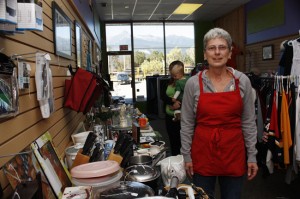 The name rings true – there are mountains of bargains at Linda Gunderson's new second-hand store which opened in the Karas Mall in Valemount Monday.
Shoppers were lined up outside until she unlocked the store at 10am, whereupon items were snatched up in seconds.
"I'm not out to gouge anyone," Gunderson said. "I want the stuff out because I've got new stuff coming in."
Beautiful mugs for $1, a microwave and microwave stand for $20 each were some of the items that disappeared right away.
She has also brought in items by request, like new socks.
Gunderson's friend and helper Marg Mackenzie helped the shoppers determine prices and work their way through the many second-hand items, all in good condition.
One of Gunderson's prize items for sale right now is a lined Alaskan coat with fox fur trim only worn for three days during an Alaskan cruise. Originally $500, it's going for $100. She also got hockey jerseys, kids shoes, mattresses, head boards, big screen TVs and a recliner sofa.
Gunderson has sourced most of her stock from storage auctions in Kamloops. In the last six months, she has put bids on several storage lockers up for auction after their owners had defaulted on their storage fees. Opening up the containers, she found everything from money to rare coins, furniture and brand-new kids clothing.
She had the first storage container sale out of her basement, but soon realized she was going to need more space.
She has washed and steam cleaned all the clothing, and done mending where necessary. She also plans to take a furniture repair course. None of the things in her store are broken or chipped.
"If I can't repair it, it goes to the garbage."
Gunderson is adamant that the store is not consignment and she will not be buying individual items from people who come into her store. The only way she will consider purchasing second-hand items locally is if the person can offer many items. She says she would then visit their home/business and offer them a price. She does not want people stopping by the store with items.
She plans to split the store hours with Mackenzie and employee Connie Newman and keep the store open 7 days a week 10am-5pm. She may extend hours starting in the spring.
Gunderson and her husband moved back to Valemount about five years ago after deciding they wanted a slower pace of life.
With all their businesses ventures since moving here, their lives have not been idle.
"City life was just getting too hectic. We thought we needed to slow down. But it didn't happen."