Banning the expansion of oil tanker traffic through BC's coast, legalizing marijuana, and banning the sale and trade of shark fins are some of the most-reported resolutions at this year's Union of BC Municipalities Conference in Victoria last week.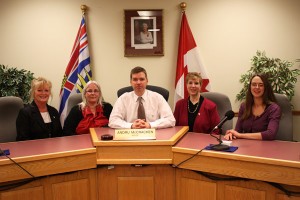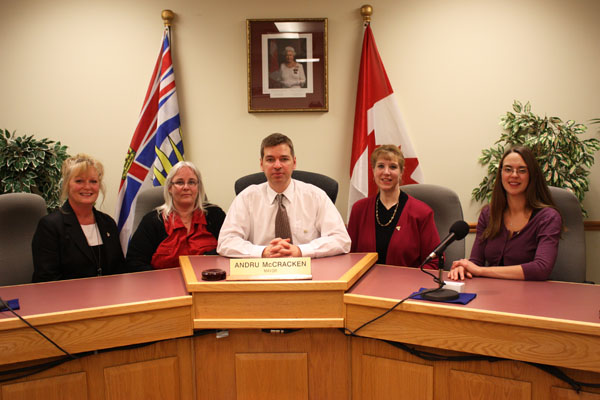 But what happened on the ground for our local governments?
Each year more than 200 municipalities, First Nations and regional districts across BC gather to meet with ministers and each other for four days. The union was formed to provide a common voice for local government and their resolutions are brought to the provincial or federal government for action.
McBride and Valemount didn't bring any of their own resolutions to the table, but they were able to bring their concerns and suggestions to several Cabinet Ministers.
From Valemount, three councillors, the mayor and the CAO attended the conference, and met with ministers and party leaders together wherever possible.
Mayor Andru McCracken says they met with the leader of the opposition Adrian Dix to try to bolster bi-partisan support for the Valemount Glacier Destinations project.
"We wanted them to have our sense of it – that it's not mired in controversy like the Jumbo and Council is in favour," McCracken says.
McCracken also met with the leader of BC Green Party, Jane Sterk, and asked her support for the Glacier resort project.
Valemount Ski Society member Joe Nusse had already contacted Ms. Sterk and she told McCracken that she planned to meet with the developer to learn more about it.
"For people in Valemount concerned about the environment, having the Green party take a look at it should be a consolation," McCracken says.
McCracken said Prince-George Valemount MLA Shirley Bond accompanied them to their ministerial meetings.
"She commands a great deal of respect," McCracken says. "Not one minister failed to notice that my entourage was made up of powerful women."
They met with Minister of Forests Steve Thompson about increasing the wood supply for small mills and manufacturers and discussed acquiring a Simpcw tenure in the Robson Valley. The Simpcw currently do not have any tenure in the Valley.
"They've been a great partner to date. The Simpcw have taken great time and energy to meet with local small mills and how to meet their needs."
"I think the Minister of Forests was amazed, because we'd done our research, Shane had done his research," McCracken says.
"Small communities typically go there and ask for wood for community forest, but that's very difficult, multi-year process. First Nations are often able to have a direct-award."
He says partnering with the Simpcw could help Valemount sustain 6-10 local mill jobs, as the partnership could keep the wood local.
Valemount also met with Don McRae, Minister of Education. McCracken said instead of taking a blunt approach by asking for more funding for rural schools, they used the opportunity to fill in the Minister on the fledgling Mountain School concept at Valemount Secondary and elementary school.
"Fortunately our local schools are working really hard to think out of the box. This was our opportunity to walk the mountain school idea to the highest levels of government and ask for their support in doing something so incredible."
McCracken says they hope to host the Minister in Valemount soon. They also asked for his help in promoting the mountain school as an international school.
"Rather than a general laundry list of things that aren't achievable, we bring them something they need to be aware of and can find small ways to support us," McCracken says.
Valemount was also part of a group meeting with Minister Rich Coleman, Minister of Energy, Mines and Natural Gas.
McCracken they supported their friends in McBride, Clearwater and Barrier, as part of the McBride-Barrier Corridor project, and trying to influence the direction for the benefit for Valemount.
At the final banquet there were 96 tables, and 18 Cabinet Ministers, and Valemount was seated with Norm Letnick, the Minister of Agriculture.
"It speaks to the profile Valemount gets. It was a tremendous honour."
Valemount also arranged a private meeting with former Vancouver CAO Judy Rogers who was hired this summer as a consultant for the Village for a Core Review and advice on the CAO.
The session was about good governance practices, and a place to discuss Valemount's current actions and priorities with an experienced local government official, to ensure the village is on the right track.