By: John Kenkel
Citizens of Valemount often depend on Greyhound buses to get them where they need to go. Whether it is a medical appointment, or a visit to family, Greyhound is always there. But in the near future, that option might become harder to use. Greyhound is making cuts all over BC, and one of two routes through Valemount is being reduced.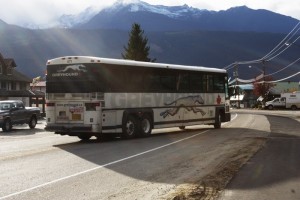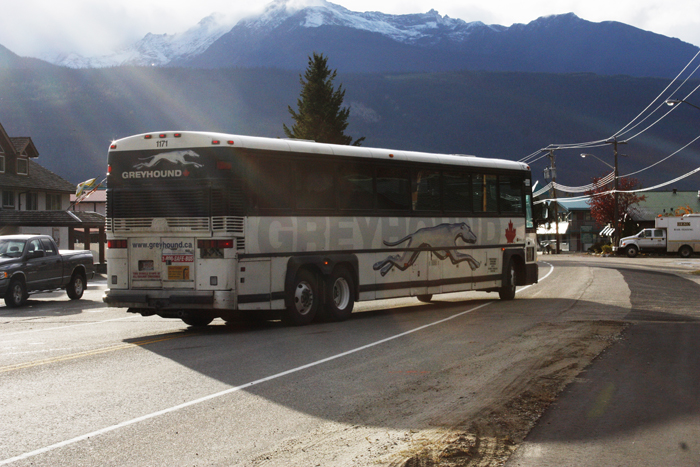 The changes would reduce the minimum number of busses that pass through Valemount between Vancouver and Edmonton from two to one in each direction. The route from Prince George would remain unchanged.
At their Oct. 9th council meeting, Valemount Council discussed the proposed cuts. Village councillor Christine Latimer said cutting that service in half was scary, especially in the winter months. Council agreed to send a letter to Greyhound expressing their concern and the importance of the service to the community.
These cuts will make it more difficult for people to take the bus, but Grant Odsen, regional manager for passenger services in BC for Greyhound Canada, says Greyhound can't continue to operate at a loss. With an average load of 16 people per bus on the Valemount route, Greyhound nets only $2.82 of revenue per mile going east and $3.55 of revenue per mile going west, far below their $5 break-even point.
Greyhound lost 14.1 million dollars in BC last year and Odsen says ridership has declined steadily over the last few years. He says it's a misconception that Greyhound has a monopoly – anyone can apply to the BC Passenger Transportation Board to create a bus route.
He said the one eastbound and one westbound trip that may be cut in Valemount are the daytime trips, because the night-time trips are the busier ones. While the daytime routes may be cancelled, there will still be midnight departure out of Kamloops arriving in Edmonton at 11:35 am and an evening departure out of Edmonton at 19:45 arriving in Kamloops at 5:55am.
With the proposed cuts, Greyhound is only reducing the minimum frequency of busses that pass through Valemount. This means that they would only have to run one bus through. If demand for the bus goes up in Valemount, Greyhound could increase the number of busses coming through to meet the demand.
When asked about the Northern Health Bus' role in Greyhound's reduced ridership, Odsen responded, "It's difficult to put your finger on whether it's a little or a lot." He said some people were definitely using the Northern Health Bus that could be using Greyhound. Northern Health only carries passengers who have medical appointments out of town, but charge about half what Greyhound would charge. According to a Northern Health report, health bus service grew 14 per cent from 2010 to 2011.
Odsen also blames loss of ridership between larger centres on the dropping cost of airfare, making it easier, cheaper and faster to take a plane. As the costs to operate have increased, so have the price of Greyhound tickets.
Before Greyhound makes these cuts, they have to submit their proposal to the BC Passenger Transportation Board, which regulates inter-city bus travel. The Board will look over the proposal and judge whether it's in line with the Passenger Transportation Act.
Jan Broocke, director and secretary of the passenger transportation board says the board has received criticism in the past about the amount of time it takes them to make decisions. Odsen says it could take up to a year for the Board to make a decision on changed routes – which means Greyhound cannot react quickly to changing demand. To fix this problem Broocke says the board recently streamlined their process, creating a faster turn-around time for new applications.
Odsen says he understands rural residents consider these changes "another nail in the coffin" when it comes to available services. But low economic activity and decreasing populations make it harder for Greyhound to fill bus seats, and the closure of many other rural services – whether it be forestry offices, mills or hospitals – have preceded Greyhound's changes.
Odsen says the provincial government cannot deem passenger transportation a social service without financing it.
"We provide a service to the public, but we're not a public service. We're an entirely un-subsidized, private company. Our goal is to make a profit – that's why we're in business. I think even the government is starting to realize that it's difficult to force a private company to perform the tasks they want to at a loss, just because they have a social agenda."
Odsen says Greyhound isn't asking for a subsidy.
"All we're asking for is the opportunity to do business without losing money."
Some Valemount residents say they may take the bus more often if Greyhound improved the comfort of travel by bus. The Super 8 in Valemount currently acts as the warming area for waiting passengers late at night. Late buses and high ticket prices are other deterrents some say.
The deadline for public comments has been extended to October 24, so if you have an opinion, it could still be heard by Greyhound.