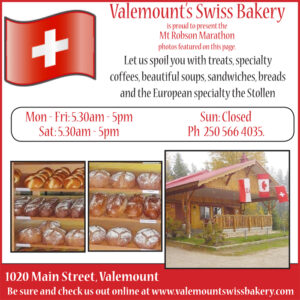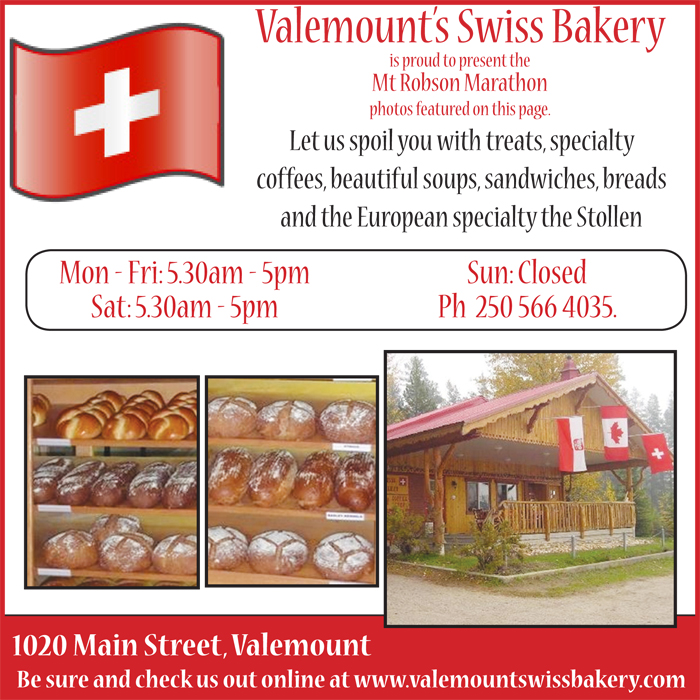 http://www.valemountswissbakery.com/

Runners from all over ran for all kinds of reasons last weekend at the second annual Mt. Robson Marathon.
Among them was Valemount's Elizma Du Toit who ran her first half marathon since getting sick in 2006.
That year she ran a half marathon in Cape Town, South Africa, where she is from. Shortly after it was discovered she had a brain cyst. The cyst was causing pressure on her skull. She couldn't exercise for two years because of the headaches.
"I was starting to lose my sight," she says. "Doctors didn't know what was going on."
She underwent several surgeries. Finally a doctor inserted a shunt into her skull to help the problem. She and her family moved to Canada later that year. In 2010 she started exercising again, but she would frequently wipe out on her bike.
"I saw the tree coming at me and knew I had to miss it but I couldn't."
Dr. Keyter took care of her in Valemount, and she eventually ended up in Vancouver.
They thought they might have to go back to Cape Town to get the surgery, but Du Toit believed God was going to help her. She held off booking the flight and the doctor phoned saying he could do a surgery the following week.
She says a day after the surgery in August 2010 the doctor apologized that he didn't do the surgery earlier.
"When he went in he took pictures of my brain and you can see where the shunt was. It actually did a lot of damage to my brain stem."
The shunt that was put in to deal with the cyst was an inch too long, she says, and that's why it was pressing into her brain. She says the experience brought them closer to God.
Last year she did the 5km run at the Mt. Robson Marathon, but she knew she had to start again with the half marathon. She had done a half marathon in 2006 in Cape Town before the trouble with the cyst.
"I wanted to prove to myself I was better than I was when I was sick. Now I am officially 9 minutes better."
She clocked the 22km in 2hrs 9mins and 4 secs.
Du Toit says there is a wonderful spirit of encouragement at the marathon, where the runners take care of one another. The volunteers everywhere were wonderful, including the alpenhorn players.
"I couldn't locate them but I could hear them. It's so beautiful." "The volunteers handing out the water, their energy, it is so inspiring; they just encourage you so much."
Check out the runners times here-
https://docs.google.com/viewer?a=v&pid=gmail&attid=0.1&thid=139c0cab92b5205d&mt=application/vnd.ms-excel&url=https://mail.google.com/mail/?ui%3D2%26ik%3D42454b3124%26view%3Datt%26th%3D139c0cab92b5205d%26attid%3D0.1%26disp%3Dsafe%26realattid%3Df562e5c05583f923_0.1%26zw&sig=AHIEtbSXUb7mN-vxScMFXi9KHqXYFCyEeg
Check out our Gallery of photos from the 2012 Mt Robson Marathon, brought to you by the Valemount Swiss Bakery.