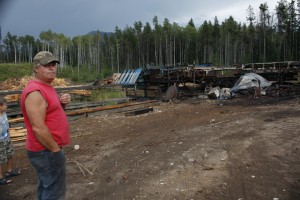 Valemount RCMP are still investigating a suspicious fire that gutted a family-run mill in Tete-Jaune two weeks ago.
It is the latest of several fires on the property in recent years which have been suspicious in nature.
Const. Simon Bentley investigated a fire at the Simpson's last year, which was ruled arson, but no charges were ever laid. Bentley says he is currently following up on several leads.
Bentley says he still needs to speak to several witnesses and is asking for any tips from the public.
Larry Simpson says he plans to purchase a new mill, but isn't sure whether he has an enemy who will simply destroy what he rebuilds. His wife Linda says she doesn't think she can bear another fire.
Simpson's sawmill had not operated in two days when the fire broke out on their home property. No one was around to witness the start of the fire. Neighbours spotted the smoke and rallied to save what machinery they could. They managed to save several pieces of nearby equipment but the mill itself is a "write-off" Bentley says.
Luckily, no one was hurt during the fire and it didn't spread, despite the dry, hot weather. Simpson had no insurance, which he says is costly and difficult to obtain for a sawmill.
Simpson set up the mill one year ago under his and his son's company Simpson & Son Contracting.
They got their logs, primarily Douglas Fir, from the Valemount Community Forest, and had customers in Prince George, McBride, Vancouver and the oil patch. Three workers and a number of contractors helped fill the part-time work he got through the contracts, often for bridge timbers.
While working at Hauer Bros. mill in Tete-Jaune for 35 years, he says he saw several mill fires and that's why he kept the water truck nearby to be cautious. The water truck helped contain the fire when neighbours arrived on the scene.
If anyone has information about the fire, Bentley encourages them to contact him at the local Valemount RCMP detachment or contact crimestoppers anonymously at 1-800-222-8477 from anywhere in BC. Crime Stoppers is available 24 hours a day, 7 days a week.