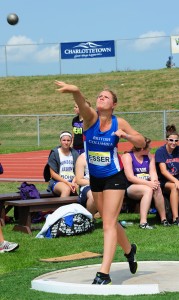 Agnes Esser is back in McBride visiting family after her record breaking victory in shot put for her age category two weeks ago.
Esser, who just turned 17 last week, was crowned Canadian shot put champion in the under 18 girls category and established a new record at the Legion Canadian Youth Track and Field Championships in Prince Edward Island. She also won a bronze medal for discus.
Esser threw the 3kg shot put ball 15.09 metres, farther than any other girl her age has done. She says she fouled her second-to-last throw, but focused herself for the last one.
"I told myself settle down, just have one really good throw," she says. "And that's what happened." Esser now lives in the Cowichan Valley and attends Frances Kelsey Secondary School. She recently won a medal at the provincial track and field competition in Burnaby.
She says she had been training hard this past year and was hoping to be selected for nationals. This is her first time at the national competition.
She says she really enjoyed the higher level of competition, and hopes to do more.
"On the island I am the higher level competition. I liked it because it made me push to go beyond myself – to not just accept that I beat them by this much."
She says when she first started training for track and field, she was only doing discus and didn't want to go in shot put.
"I didn't like the idea of it you get your neck dirty," she says. "I finally got convinced and started to enjoy it and so now I do two events."
She says she enjoys training with her club in Victoria – the Pacific Athletics track club, since she enjoys being active and outdoors. She hopes to get a scholarship at a university. This is her last year in high school.
"We'll see where this goes," she says.
Next year she will be throwing the 4kg shot put – the highest weight level for women. She says she might also try the hammer.
The Legion Canadian Youth Track & Field Championships now combines the Legion under 15 and under 17 programs with an open concept in both categories. The event is nationally sanctioned by Athletics Canada and many Canadian track and field stars who have participated in the Legion program have gone on to world and Olympic glory.