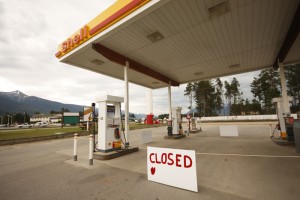 The Shell station will be closed for at least a few weeks after a motorists slammed into the side of the building last week, damaging the computers that control the pumps.
The vehicle toppled a cement barrier meant to prevent such an incident and put a large dent in the side of the building. On the other side of the metal wall were the computer panels.
B.J. Park, who owns and operates the station, says it will take several weeks to order the right parts which are only available from the U.S. For now, he has no choice but to close the pumps and the store.
He pointed to the damage on the building where you can even see the bumper indent. Even though it was a small car, it still managed to cause a lot of damage.
Being closed during a peak gasoline season is not good news, but Park says he will roll with the punches.
"Maybe unlucky, maybe lucky," he said. "You never know."