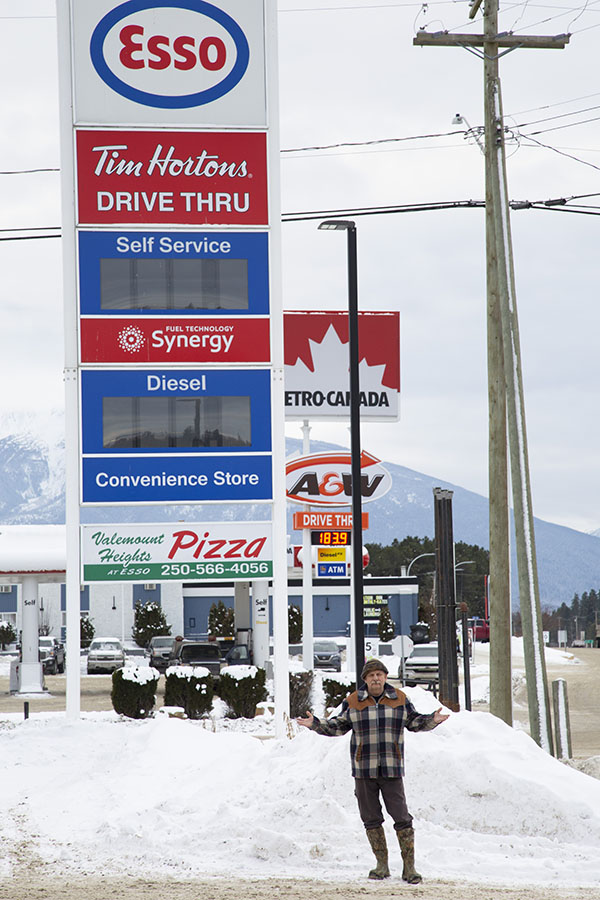 By Laura Keil
It's a common sight in Valemount: gas station price boards that don't show any prices, with prices between stations varying by as much as 10 cents from each other, and 20-30 cents from neighbouring McBride. Resident Sandy Janum is tired of it, and wants highway gas providers to be more transparent and accountable.
"I don't understand how and why they're getting away with it for so long," he says, noting that the gasoline prices don't affect him personally because he drives a diesel.
When the Goat checked prices on Monday Dec. 12th, neither Esso nor Shell displayed their gasoline prices on their billboards. The price for regular gas at their pumps was 1.929, a full 10 cents higher than Tempo and Petro Canada which did display their prices.
The bigger, though not unsurprising, shock was that the price that day at both stations in McBride was 162.9.
Janum says there's no reason why fuel prices in each community should be so different, given that they are both equally remote from large centres. He says this is an ongoing issue and he has not received satisfying answers for the difference from gas station owners.
When the Goat reached out to local gas stations, both Shell and Esso said their signs were not working properly, though Shell's had been recently fixed and the owner, who was out of town, was unaware it wasn't on. The Esso price sign had an electrical issue according to a staff member.
When asked how gas prices are set, Petro Canada owner Steve Johnson would not comment and referred the Goat to Suncor's head office. Shell owner B.J. Park said prices fluctuate seasonally, and they also include the cost of freight. He said the Shell station receives their fuel from Prince George. He said he had no idea why Valemount prices are different from McBride.
Peace River Northern Rockies MP Bob Zimmer says the frequent lack of price posting in Valemount is something he's never heard of.
"It's very unusual to hear that the companies are (often) not posting prices," he said. He was also surprised to learn about the prices and how they differed from other communities.
"I'm not faulting retailers for selling gas to customers at a reasonable price but beyond it is a different thing."
When asked if he supported a federal law that would compel fuel stations to post their prices publicly at the station and online, he was noncommittal, suggesting instead that the Village of Valemount look at a bylaw.
But he did say he would look into the matter further, including price discrepancies between communities.
"I'm going to be making some phone calls about what's going on," he said. "There's a cost involved in getting the gas to us, but it should be a fair price."
He said the price of gasoline is typically the rack price plus transportation plus "money to keep the lights on."
When asked what he considered to be gouging, he said this:
"You typically see a price where it levels out – so somebody that's higher than that price, they're gouging."
On Mon. Dec. 19th, the gas buddy website showed that in Valemount the Esso, Shell and Tempo were at 183.9 and PetroCan was the lowest at 179.9. (While useful, the gas buddy website is not always updated with Valemount's gas stations, making it an unreliable tool for consumers).
The average price in B.C. Dec. 19th, according to Gas Buddy, was $157.6.
Zimmer said public pressure works and people should talk to their gas stations.