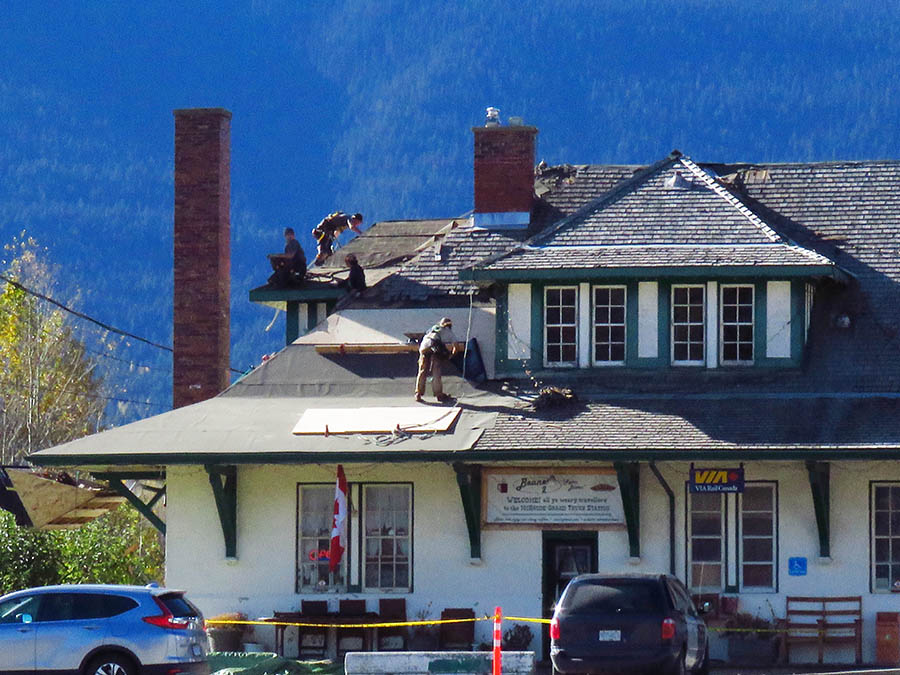 By Andrea Arnold
McBride's 103-year old train station is getting a new roof, allowing it to continue serving as a hub for the community. Before 1989, CN used the building for their operations. In the early 1990s, the Canadian government designated it as a heritage building and it was purchased by the Village of McBride. Currently, the building houses the Beanery 2, The Whistlestop Gallery, the Visitor Information Centre and a room filled with a miniature train diorama. It also serves as an active train station stop for VIA Rail's passenger trains.
The old roof was assessed as "critical, replace in one year" in 2019 by Radloff Engineering. The cedar shingles that had been donated by Tom Ryan in the late 90's were beyond their service life. In November 2021, Council made the decision to include the cost of a replacement asphalt shingle roof in the 2022 Capital Budget. The new roof has a life expectancy of about 25 years.
In June 2022 Council was presented with a request to increase the budget by $40,000 after the Village received two tender submissions. The increase was approved and the project was awarded to Prince Sheet Metal & Heating Ltd out of Prince George.
The crew began work on Oct. 3rd, and according to McBride CAO Chris Tupy, was slated to be completed in 2-3 weeks. Due to delays, it may extend to four weeks, but the agreement was to have it finished within the 2022 roofing season.
"They are working on fabricating the historical ridge caps and confirming some colors for gutters on Monday to ensure everything is consistent," said CAO Tupy.