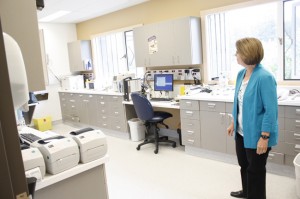 While many of the renovations at the Valemount Community Health Centre were behind the walls, the $3.3 million renos are evident in many rooms.
The renovations were jointly funded through the Province of BC and Fraser Fort George Regional Hospital District, and were completed on time.
$1.8 million of the $3.3 million project was used to renovate the emergency department and to improve patient flow throughout the facility. The remaining $1.5 million was used to improve the electrical and mechanical systems.
During the renovations and upgrades, some services had to be moved into other parts of the Valemount Community Health Centre to continue operation. These services have now returned to their newly upgraded space.
Debbie Strang, Northern Health health service administrator for the Robson Valley says some of the upgrades include wider hallways, better videoconferencing capability, digital radiology system and a ceiling lift in the emergency room so patients can be lifted by machine instead of by hand. The bigger videoconference screens will allow patients direct access to specialists and allow doctors and nurses to stay in Valemount for training instead of travelling.