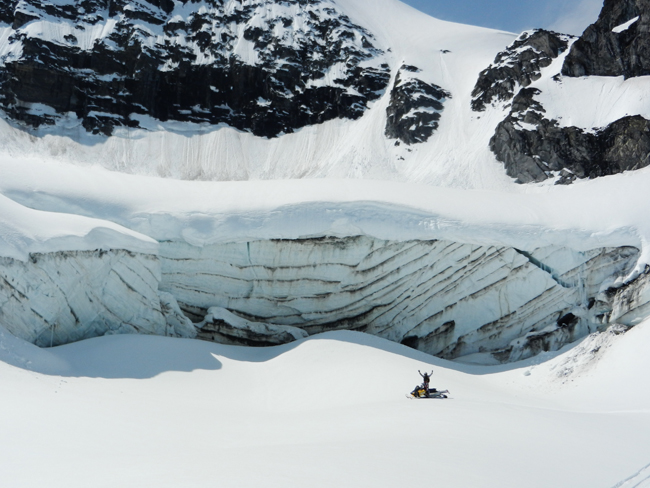 The above photo was taken May 15 2012 at Clemina Creek in the vicinity of Valemount, BC. Still riding on a 2m snowpack.
By: Curtis Pawliuk, VARDA GM
Another great season of snowmobiling in the Valemount area is nearing an end. With incredible snowfalls and mild weather, this certainly was a year to please all winter sport enthusiasts. Thank you all for your support of our Association, the village of Valemount and for using our amazing winter recreation opportunities.
It was an exceptional year for the Valemount Area Recreation Development Association (VARDA). We saw an increase of about 30 per cent in trail users. This seemed to be a trend for all the popular riding areas in BC and was likely due to an exceptional snow year and an unusual lack of snow in our neighbouring provinces. This season's grooming program was a great success, and aside from a few minor hiccups trail grooming was on schedule and we were proud of the quality of our trails.
We owe a lot to our sponsors and hope that everyone is aware of the participating businesses both locally and out of town, and support those who support the sport we all love. These sponsors provide much needed financial support to our projects and general operations. Support for Valemount and VARDA is strong and we see steady participation in general sponsorship and a minor increase in membership. Increasing our membership will be a major focus of our activities in the upcoming seasons.
It was a great winter and we have many fond memories to look back on during this summer and as we are bombarded with glaring sunshine and flying things that bite, while we eagerly await that first falling snowflake to begin the 2012 / 2013 riding season. A few highlights from this past season are…
• The snow shows in the fall were a great success as we got to see many familiar faces and meet new people while promoting our wonderful riding areas and sponsors. This year was VARDA's first time attending the Saskatchewan show, and we look forward to returning to Saskatoon as well as the always popular ASA Edmonton show. If you're at either of these shows please stop by our booth to say a big hello.
• Our poker run during the Association of British Columbia Snowmobile Clubs annual Winterfest campaign was again a great event for all ages and we were successful in fundraising for the BC Lions Society for Children with Disabilities.
• VARDA hosted the Saskatchewan Snowmobile Racing Association and held our first ever Snow Drags in February. It was a very exciting event with over 50 racers in attendance, a large crowd and some great prize money up for grabs. Please look for this event in early February 2013 and come on out for the races. Keep checking the Events section on the VARDA website for more info on upcoming events in the Valemount area.
• Alpine Country Rentals and VARDA sponsored a Customer Appreciation Day in March. Trail passes were free at the Allen Creek riding area and a BBQ lunch was provided to all who attended. This annual event gives thanks to our visitors and shows our appreciation by providing some good laughs and a warm lunch in an amazing atmosphere.
VARDA is especially proud of our commitment to advancing snowmobiler education and safety. VARDA is the largest participant in the Association of British Columbia Snowmobile Clubs (ABCSC) "Buck a Head" program. One dollar of every trail pass sold by participating clubs goes to the Canadian Avalanche Centre to further snowmobiler avalanche education. ABCSC is now the second largest non-government sponsor of the CAC and VARDA contributed over $17,000 towards this great initiative in the 2011/2012 season.
Something that you may not be aware of, is VARDA's ambitious involvement in snowmobiler safety on a provincial and national level as well general recreation and promotion of Valemount. VARDA is a very strong supporter of the Canadian Avalanche Centre and I was elected to a director position on its Board in 2011 serving a two-year term. We are an active participant on the CAC's Snowmobile Committee with VARDA acting as a board-committee conduit.
VARDA is also heavily involved with the Association of BC Snowmobile Clubs, is represented on the Valemount Tourism Committee and Valemount Ski Society, holds an MOU with ATVBC and is also a member of the Outdoor Recreation Council of BC. We are proud to be involved with all of these great groups while representing one of the best recreational destinations in the world.
Operations and infrastructure-wise, we have some exciting projects we hope to complete soon:
• The Province of BC's terrain rating project for managed snowmobile areas is almost complete. The majority of our managed areas have been rated under the ATES scale and this will help snowmobilers choose their riding terrain safely based on an avalanche exposure scale and rating.
• Our application for a cabin in the Chappell Creek area was denied due to wildlife sensitivities, so our efforts are now focused on our current facilities. We first hope to move and rebuild the Clemina cabin, with the Allen Creek cabin not far off. These processes take a substantial amount of time and we must be patient, but we do see light at the end of the tunnel.
• We are progressing very nicely with our Crystal Ridge Snowmobile Assisted Ski Hill. This amazing facility will open for the winter of 2012/2013 with an up-track and four runs each boasting upwards of 2,000 vertical feet.
• And with our ongoing wildlife, stewardship, educational, mountain safety, and day-to-day operational tasks, we are constantly working to improve and protect your recreational experiences in the Valemount area.
With one amazing season down and another soon to follow, we are constantly looking for better ways to serve our guests and sponsors while working towards making Valemount one of the most sought after recreational tourism destinations in the world. Should you have any questions, comments or suggestions, please do not hesitate to contact me.
Remember, Valemount is a year-round recreational destination and the VARDA office is open to offer any help and guidance needed for your next adventure.
Whether it be snow, dirt, water or just a relaxing getaway, we are here to help direct you to the info you need to make your next trip to Valemount one of your best ever.