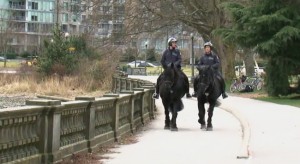 Two horses from Dunster are now patrolling the streets of downtown Vancouver after being accepted into the Vancouver Police Department's Mounted Squad.
They were introduced to the public last month, after passing their training with "flying colours" says their former owner, Chris D'Alessandro of Dunster.
"These two horses are absolute people horses; they love being near people," he says. "They just swell up with happiness."
The Vancouver Police Department's mounted unit was prominent during the 2011 Stanley Cup Riots, when hundreds of Vancouver Canucks Fans went on a rampage in downtown streets after the Canucks lost.
In the midst of fire, crowds, and noise, the horses in the mounted unit remained calm during the chaos.
When the Vancouver Police Department put the word out for more horses, D'Alessandro knew that Merlin and Turbo fit the bill. Big, gentle and easy to train, their breed originated in France and was historically used for battle. They are also large enough for a man wearing a full set of armour. The breed has also become popular as multi-use sport horses that have been bred down for size. Full size Percherons have been used for pulling plows and wagons that are too big for the average rider.
D'Alessandro first bought Turbo from a ranch in Saskatchewan near the North Dakota border. Turbo was big, strong and willing.
"He turned out great, learning fast, more like a big friendly dog with a sense of humor; he was friends with all," D'Alessandro says.
One day he watched Turbo push his way into the tack shed, grab one of his student's six packs of Bud Light with the six hole plastic, puncturing each can and sucking it back while the other cans shook wildly.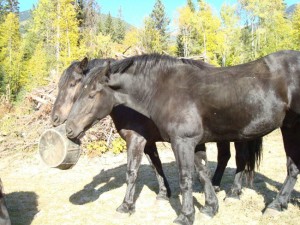 With D'Alessandro's trail rides becoming more popular, he decided to buy another – Turbo's brother. He named him Merlin "because he was so damn smart."
"He was not even halter-broke but after spending two hours in a round corral we went for a spin around the ranch to the complete amazement of everyone there including myself," he says. "It says a lot more about the horse than it does about me."
D'Alessandro says he has never seen two horses closer than these two: they would eat out of the same bucket without aggression and got along with everyone. He even dropped his price so the police department would take them both so they wouldn't be separated.
Remarkably, both horses passed the 60-day trial. The department only takes about 1 out of 10 horses they try.
But D'Alessandro says it's no surprise. Both are extremely docile and excel as riding horses, moving 300 pound adults to 8-year-old girls on semi difficult terrain.
"I said you won't be taking these back. Both passed with flying colours."
He says they have become show stoppers in Stanley Park.
He hasn't been down to see them since they left, but while watching a video of the press conference about the brothers, D'Alessandro shook his head at the beautiful stables they now have, joking that it's nicer than where he lives.
"It breaks my heart to have them go but I know this is the destiny for my two boys," D'Alessandro says. "I know it's right for them knowing they will be spending the rest of their days in Stanley Park helping people."