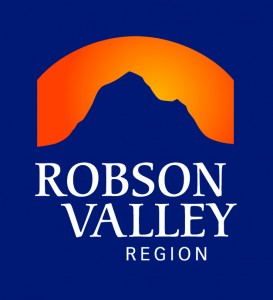 It's an icon known the world over and its silhouette is now the logo for the Robson Valley Region – an area encompassing Valemount, Tete-Jaune, Dunster, McBride and the places in between.
The Regional District just released the logos and slogan as part of their branding strategy for the Robson Valley area.
Regional District manager Terry McEachen says now they will be issuing a request for proposals for a marketing plan.
"Now we have the identity part done and we just have to figure out how it will be rolled out."
The villages and regional district are now free to use the logos and slogan, "Live Large," to brand regional projects and initiatives.
Valemount mayor Andru McCracken says Valemount and McBride will continue to market themselves independently, but if this brand is successfully deployed, the logo will be included in every sanctioned ad for the region.
"We're using one of the world's most recognizable mountains as our calling card, knowing what we have to offer is the key to success."
"Climb any peak in the Robson or Canoe Valley and you will see one outstanding feature that unites the entire area: Mount Robson. When they think of Mount Robson, we hope visitors will conjure up the image of our remarkable communities," says McCracken.
He says because the brand speaks to quality, it will help to attract not just tourists, but also industry and would-be residents.
"Lots of money is spent every year on marketing. Inconsistent advertising not only doesn't work, it brings down the image of our communities. If we're going public, let's do it well," he adds.
The brand was developed by Concept Design, and shaped by input from stakeholders and community representatives who contributed ideas, opinions and visions to help define a look that would capture the Robson Valley Region and the features that set it apart from other areas.
Ken Starchuck, Regional District Director for Area H (Robson Valley-Canoe) says the brand is an important first step in attracting economic development activity to the Region.
He says the target for this branding is somewhat tied to the Economic Opportunities Plan which identified key areas of economic development like Tourism, Agriculture, Forestry and Wood Products, Lone Eagles/Active Retirees and senior government services.
"Nowadays I think if you're a Lone Eagle/retiree looking for a place to set up a home based business or small business operation looking for a new place to relocate, these outdoor attributes will be key factors newcomers will consider before moving to the Robson Valley Region."
Starchuck doesn't think it takes away the ability for communities in the region to do their own marketing plan focussed specifically for their community.
McBride Mayor Mike Frazier says this may be the first time McBride, Valemount and communities in between have worked collectively to pursue economic opportunities.
"It's going to be exciting to see what can be achieved by working together."
What do you think of the logos and slogan? Write us! goatnewspaper at gmail.com