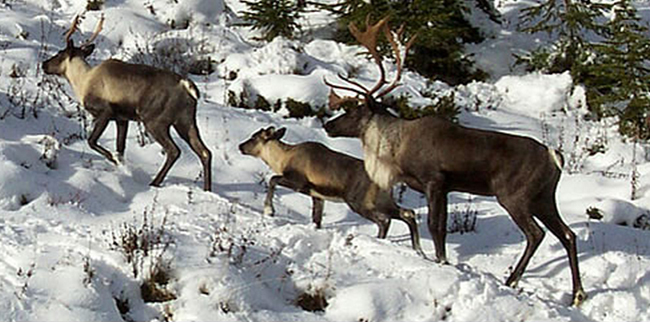 Conservation Officer Todd Hunter was in McBride and Valemount last weekend along with other enforcement officers, to enforce caribou closures in popular snowmobiling areas. While he wasn't able to specify numbers, Hunter says they observed "significant" violation of the closure areas in the Robson Valley, despite clear and ample signage for sledders to stay out.
Hunter says it's a growing problem as more and more sledders seek out fresh powder each year.
"It's disheartening to see," Hunter says. "People are going right past these boundary signs to get to the fresh powder."
He says the sledders' search for fresh powder leads them to isolated, untouched areas which bring them into caribou country.
Hunter says officers from the Ministry of Environment as well as the RCMP patrolled areas by snowmobile and helicopter on what was Alberta's Family Day weekend. Hunter does enforcement on behalf of Fish and Wildlife Division of Forestry, Lands and Natural Resources. They did not issue any tickets for violation but did observe tracks going right past closure signs.
The temptation to find fresh powder may have been exacerbated that weekend after several weeks of no significant snow, says Curtis Pawliuk, GM of the Valemount Area Recreation Development Association. That said, he adds that a closure is a closure, and they have been working very hard for several years to educate snowmobilers on caribou closures as well as avalanche safety. He says a couple people from VARDA, himself included, have spent every weekend for the past four years
talking to riders in various areas about those issues and they've seen very high compliance.
Out of an estimated 20,000 to 25,000 snowmobilers a year, Pawliuk says his office only hears a dozen complaints about violations.
"To only get a handful of infractions a year I would say is a success," Pawliuk says.
He says while there is usually good signage, in some of the alpine areas with no trees on which to post signs, it is more difficult to follow where the caribou areas begin
without a GPS. That signage is also tougher to maintain. He says they have been working with the Ministry in order to design the caribou closures to follow the tree line boundary so the boundaries are easier to follow.
Pawliuk says they recently completed a two-year community education program on caribou and added new signage south and north of town.
Mountain Caribou have been listed as a threatened species for more than a decade, though their northern cousins are still hunted. Some Mountain Caribou herds have been listed as endangered, though not in the Robson Valley area.
Heli-skiing is still allowed in many caribou closure areas and helicopters regularly fly over these areas for access.
Several studies in the past 10 years have documented the potential negative effect snowmobiling can have on caribou populations, by pushing them into less desirable areas or creating highways into the alpine for predators like wolves. Further, the noise from snowmobiles as well as other recreational vehicles has been shown to increase stress hormones in the animals, making herds less productive (producing fewer successful offspring).
The provincial government has amped up their enforcement of snowmobiling areas in the past few years. Hunter says even a few people who violate the closures could negatively impact an already-threatened caribou herd.
"The only way to save the population is to stay out."