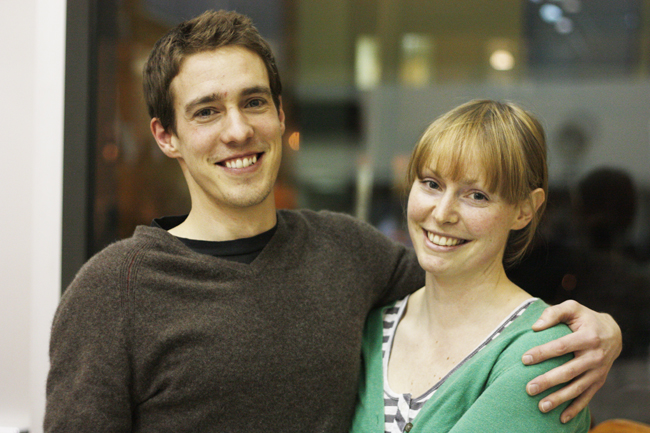 Jared and Kathryn Smith hope to harness the Valemount area wilderness for an English as a Second Language (ESL) school they plan to open by fall 2013.
The couple has been working on the idea for eight years, ever since they packed up their own bags to learn Spanish in Costa Rica in 2004. They have developed a business plan and are in the preliminary stage of developing the school – the Rocky Mountain English College.
While in Costa Rica, Jared says they could see a similar immersion language school working in Valemount, spiced with outdoor adventure and immersion experiences. The target would be students who have graduated from high school and are looking for better language skills before entering university or applying for a job.
"A lot of people are enamoured with the Canadian wilderness," Jared Smith says. "And a lot of global trade is still done in English."
Either way, the Smiths idea was that being far from the city will help keep them immersed in English, and remove many of the temptations to use their native tongues.
The program would be less expensive than a university or transferable credit program,and it would offer more in the realm of outdoor experiences, which the Smiths say will add to the language immersion.
They plan to arrange homestay arrangements or dorms for students enrolled in the program who will likely come from around the globe.
According to some estimates at least 1.5 billion people are currently trying to learn English around the globe. English is the second most widely spoken language, after Mandarin with 500 million speakers worldwide.
Jared says Valemount is a desirable location because it is a more friendly environment and will allow students to make friends in the community more quickly than in the city.
They plan to offer 5 hours of instruction per day, as per industry standards and have one class of 10-15 students during their first year of operation.
The college will also offer evening and weekend classes a few times a week for locals who wish to improve their English skills. Most of the material, however, will target beginner to intermediate speakers.
In BC, there are no minimum requirements for ESL instructors in private settings. The Smiths plan to ensure instructors have a university degree, Teaching English as a Second Language (TESL) certification, and ESL teaching experience.
In terms of school accreditation, they hope to obtain Languages Canada and/or BC Education Quality Assurance Designation within the first three years of operation.
"Hopefully we'll get enough students that it will be its own community," Jared says.
With all the translation software out there, do they think technology will ever overtaken second language learning?
"You'll never get the same intonations, body language, sarcasm etc that make up communication," Kathryn Smith says.
She notes that the content of what we say is less than a third of what makes up communication.