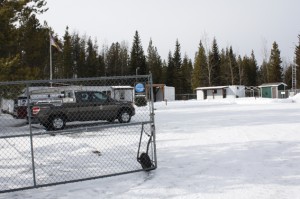 Provincial fire fighters stationed in Valemount will trade-in five trailers for a permanent building next year, according to an announcement by the Ministry of Forests, Lands and Natural Resources Operations.
The upgrade will add a new fire zone office and initial attack base at the site, which is located adjacent to Yellowhead Helicopters just north of town. The base is currently made up of a gated compound and a five portable sheds and trailers.
Wildfire personnel will work out of a modern, permanent facility and wildfire operations will be able to expand more easily when the workload increases, according to Ministry spokesperson Brennan Clarke. Having just one building will also result in lower heating and maintenance costs over the life of the structure, he says. The floor area of the new office building will be slightly greater than that of the five existing trailers.
Construction will likely start this summer and it is anticipated it will take six to nine months, but the exact start and duration of construction will be negotiated with the contractor. No disruption to fire response or ongoing wildfire management program activities is anticipated.
"I am very pleased to see that this project is moving forward," says Honourable Shirley Bond, MLA for Prince George-Valemount. "The new facility will enhance firefighting efforts in the Robson Valley and its construction will provide important economic benefits to the Valemount area. We look forward to it opening in 2013."
The three trailers which provided on-site accommodations for fire crew members will no longer be available. Crew members will now have to find accommodations in-town with their living allowance. The space allocated for crew housing during the construction stage will also be limited, since construction crews will need room for the temporary office trailers.
Temporary trailers will be set up for use during the 2012 fire season.
The design process is in the preliminary stages, so the exact cost of the project will only be finalized once that is complete. The cost of this project comes out of capital funding which was announced Feb. 21st as part of the 2012/13 provincial budget.
There will be no new staff or crews at the base on a permanent basis. Clarke says when the fire load increases beyond what current personnel can handle, additional staff or crews will be brought in temporarily to meet that demand.
The Valemount Fire Zone office is home to two full-time staff and 11 seasonal staff, including two auxiliary staff and three three-person initial attack crews. When not fighting wildfires, fire crews assist with local fuel management activities.