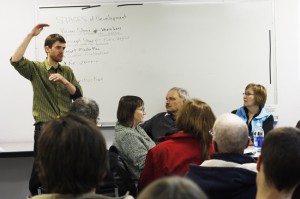 The Valemount Ski Society held its first public meeting last week to try to better explain its role in bringing a ski hill to the area.
One of the society's founders, Joseph Nusse told about 50 attendees that the Society's mandate is to provide a united voice of the community to outside interests.
Valemount currently has the interest of a group of project planners and developers that are in the initial planning stages of a proposed year-round alpine ski and sightseeing resort in the Premier Range west of Valemount.
"The developers can't read our minds. They don't know what we want," Nusse says.
The society is also circulating a petition of support for a project of that nature – though not naming the actual parties who are in initial planning stages. Society board member Bruce Wilkinson says he thinks this project is different from previous plans for development, many of which have fallen through. He emphasized that the society is a stakeholder in the project.
"This is the only stake we're going to get," he said.
Seven members were elected to the board at the meeting: Joe Nusse, Jeannette Townsend, Bruce Wilkinson, Patricia Thoni, Sue O'Dwyer, Jared Smith, and Curtis Pawliuk.
The society was formed last year to encourage the development of a ski hill in the area.
A group of planners and developers has now launched an Expression of Interest to the province to build a year-round ski sightseeing resort. It is still in the preliminary stages, however, and a Master Plan has not yet been developed. More information about the proposed resort will be available after the expression of interest is accepted by the provincial government at the end of February.
According to preliminary plans, the Valemount base location would contain up to 2,000 bed-units with lift access to the viewpoints and glaciers of Mount Arthur Meighen by way of Mt. Pierre Elliott Trudeau. The area provides a clear view of the peak of Mt. Robson.
All the information about the initial proposal is available online at www.for.gov.bc.ca/resort_development/resort_plans/proposed/
Anyone can join the Ski Society at any time. Members will shape the mission statement of the Ski Society and its future role in bringing a ski hill to the area. Board Member Patricia Thoni says she hopes the Society will be able to come up with a single voice with which to lobby government and developers.
For more information on the Ski Society or to join or sign the petition, visit the Ski Society Website here: http://www.valemount.org/ski/index.html