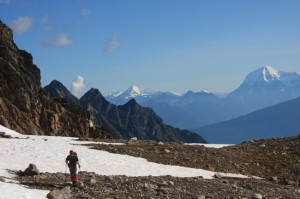 E-subscribers access only! Sign up now!
After last week's story in the Goat on the proposed glacier ski-sightseeing resort in Valemount, we've asked some local people what they think about the plan.
To recap, Vancouver-based resort developers filed an expression of interest early December with the provincial government. The targeted area for the resort includes Mount Arthur Meighen and Mount Pierre Elliott Trudeau which are part of the Premiere Range of the Cariboo Mountains just east of Valemount and is visible from many vantage points in the village.
The development group, incorporated this year as Valemount Glacier Destinations Ltd., is headed by well-known Vancouver based mountain architect Oberto Oberti, whose resume includes being the chief architect and project head of Kicking Horse Mountain Resort in Golden BC.
Oberti says the proposed project is primarily a glacier access ski area and a sightseeing destination.
He says if their master plan is as good as they hope, the targeted users will ultimately be visitors from around the world, similar to the clientele already attracted by the Banff and Jasper National Parks.
Patricia Thoni is one of the founding members of the local Ski Society, which was created to connect local residents with the development. She owns the Caribou Grill restaurant with her husband Rudi.
Thoni says she looks forward to working with Oberti and watching it unfold.
"It's pretty exciting," she says. "It would definitely be the little boost the town needs."
Thoni has been ski touring the backcountry for decades. She says while the quality of skiing close to Valemount rivals other places in BC, the access is not as good. Her family lived in Jasper for many years, partly because of the access to a ski hill. It was easier when their children were young.
Thoni says the development would give a whole different feeling to the town – with more energy and youth.
"What I like about a ski town is that it attracts young people," Thoni says. "You see more young families and it employs more people."
But she acknowledge the obvious drawbacks well, one being the higher price of housing.
She notes that the price of housing went up a lot in Revelstoke after their ski development was proposed. But she says for her, the advantages would outweigh the downsides.
"We got to keep our schools filled," she says. "We lost a lot of families when the mill shut down."
Joan Nordli, a former Valemount councillor who has lived in the valley close to 50 years, says a concern she shares with a lot of people is that they have heard promises of development before.
"There have been these other projects that have been on the horizon – and they've just sort of disappeared," Nordli says. "I think this will be a case of 'seeing is believing.'"
Passion and financing are the two key ingredients for getting a big project underway, she says, noting the passion and capital used by Mike Wiegele to start his Blue River heli-ski lodge.
She says it's also crucial that the development use environmentally sound practices.
"This is pristine country," she says. "You want to see something that will benefit the surroundings of this valley."
The development would also put pressure on certain demographics such as low-income seniors.
She says she hopes the level of service and housing availability remains the same, not just for seniors but also to ensure young families can settle.
Beth Russell, a retired nurse who moved to Valemount from Jasper with her husband a few years ago, says she is 60-40 in favour of it.
"I want us to come out of our slump and bring young people here and have energy in our town," she says, however there's still worry and concern.
"It's something that's never happened before in BC and here it is on our doorstep. It's scary in a way."
She says a lot of people say it's never going to happen. She says even for people who are wary of the downsides, it's important to be open-minded.
"There's not enough things for people to do for work here unless they're really entrepreneurial," she says.
"I want us to come out of our slump. But I want it to be developed properly so the town can benefit from it. I don't want it to become a little Whistler."
He has to have lots of public meetings about this so he knows the people's concerns, she says – after all, with a project this big we could have jets flying in
"We want to be proud of it, and part of the planning," she says. "That's my biggest concern."
Seiji Hiroe, who practices Shiatsu and runs a small farm, says when he came here 30 years ago, there was a story about someone creating a ski resort.
"So many times they said something was going to happen and then nothing happened," he said.
He says he would be happy to see people skiing on that mountain, but he'll believe it when he sees it. He agrees that the Valley could use a boost economically, but we should also be looking at Valley-generated enterprises.
Another Valemount resident, who did not wish to be named, said the proposed development may not be the right direction for the town. It's a question of values and culture.
The problem remains, however, that many people struggle to get by, the resident says. As the plan goes forward, she hopes bright ambitious people will help control the shape of the proposal – something that is out of her league.
"My hope is that if it does go forward people from Valemount with that kind of smarts would get involved that aren't just seeing dollar signs in their eyes," she says.
Oberti says the project will have the biggest (aerial lift serviced) vertical drop of any ski area in North America, all in natural snow and potentially have the biggest vertical drop in natural snow in the world.
They want the impact on the land to be "insignificant," he says, and to maximize the natural experience; the project is primarily dedicated to aerial movement of people and skiing on snow at higher elevations.
Unlike other ski areas, it would provide access to the high part of the glaciers where there is snow year-round. The Premier Range is one of a handful of places in North America with access to year round skiable glaciers and high-elevation mountains within a reasonable distance from existing road and power infrastructure.
An estimated 300-1000 direct jobs could be created through the project as well as roughly 250-300 construction jobs, Oberti estimates. In addition, 2.5 indirect jobs could be created for each direct job based on rough estimates – as many as 4,500 new jobs and their associated spinoffs.
While the Master Plan has yet to be drafted, Oberti says it will include a plan for overnight accommodation, creating an attractive mountain resort base, which will include restaurants and essential shops. It is not planned that shopping will be a reason to visit the resort base, he says.
"We expect that most of the shopping requirements will be met by the Village of Valemount."
All season sightseeing for the Premiere mountain range and Mount Robson will likely be just as popular as the skiing itself.
"We are trying to make mountains accessible for the experience of higher elevations, the enjoyment of views and for the general public to access year-round skiable terrain with natural snow," Oberti says.
Valemount Ski Society founding member Joseph Nusse says now that the expression of interest has been filed, the Valemount Ski Society will be having its first AGM where all members of the public will be invited to participate, and a president as well as board of directors will be elected.
"There are still sensitivities surrounding this project, and details will have to be released slowly for several reasons including the protection of the developers' work to date. But anybody who wants to be involved in the process is encouraged to do so."
While the cost of the entire project will depend on exact engineering requirements not yet determined, Oberti says experience indicates a project of this kind might have an opening phase in the range of $50 to $60 million and to be completed with a final investment, perhaps over 25 or 30 years, that might reach $750 million or even $1 billion.
Oberti says Valemount Glacier Destinations Ltd have a client who appears to be committed to fund the project, and who has the experience and background needed to fund a project of this kind, but he is maintaining the client's privacy during the preliminary phase.