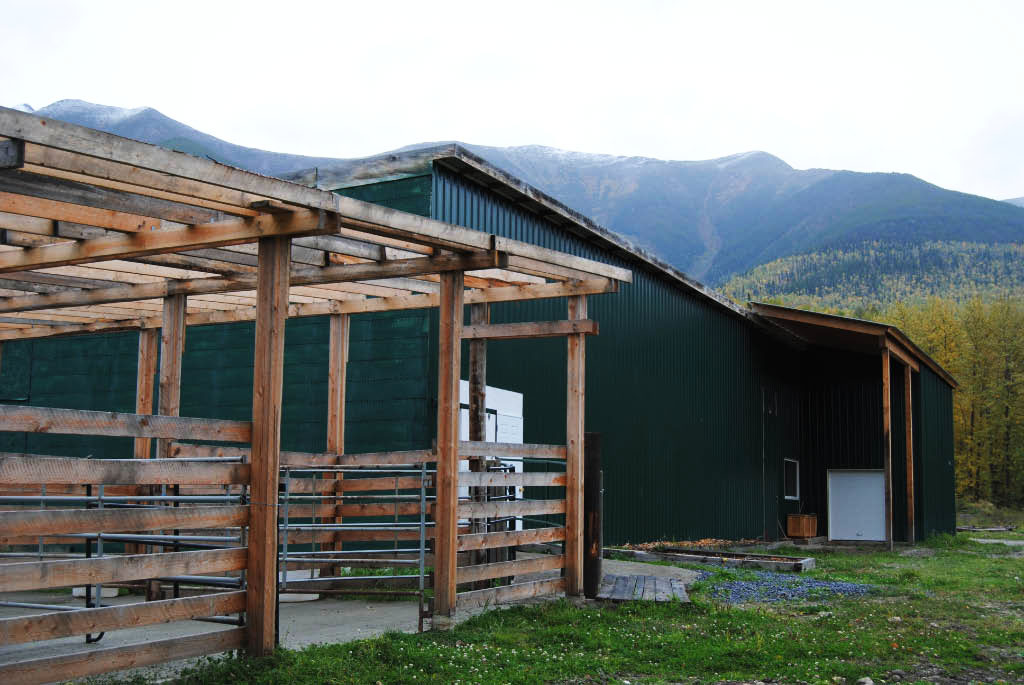 Mike Monroe's new small-scale slaughterhouse will bridge the gap for local farmers now that it has the go-ahead from government.
Monroe received his Class A license for the abattoir just outside McBride on Mountainview Road. He plans to slaughter up to 20 animals a week under his business Monroe Creek Meats Ltd.
Because the meat is provincially inspected, once cut and wrapped, it can be sold to restaurants and grocery stores.
"This is the plus side of the fact this negates farm-gate sales," he says. "With a government inspected plant, now we will be able to market local beef to local stores. We're hoping it spawns a whole bunch of new enterprises right here in the Robson Valley."
The slaughterhouse bridges the gap for local meat producers who had to haul their animals two to three hours each way for processing and deal with wait times for abattoirs in places like Clearwater, Barriere and Prince George.
Monroe says they have passed all the inspections with regards to the building for the Class A slaughter facility, which licenses the owner to slaughter as well as cut and wrap. The cut-and-wrap portion of the slaughterhouse is not yet operational as it is overseen by Northern Health, and is part of a separate approval process, he says. The plant will not be open until it is ready.
"There are still some hurdles to jump through, but we do have a license," he says. "It's all but finished."
Monroe says while the facility will be open five days a week and employ three to four people, slaughter will be just once a week. On slaughter day, a licensed CFIA inspector will need to come to McBride to inspect the carcasseses to ensure they meet food safety and animal health standards established under the Food and Drugs Act and the Meat Inspection Act.
Monroe says the facility is a community project and the benefit is community-wide.
"I don't intend to make a lot of money on it, but I would feel better if we were marketing locally, that's all."
Rosanna Kolida, owner of the Giggling Grizzly Neighbour Pub in McBride, says she would welcome the opportunity to buy locally grown and processed meat. Right now she orders her meat through Neptune Foods based in Delta.
"I think it's great to support local," she says. "We need to keep things in the community."
She says with up to 20 employees during their peak season, it's important to keep purchases as local as possible to keep families in town.
Farmer Harold Edwards is based in Legrand, 20km west of McBride. He says the slaughterhouse gives him another option for processing his lambs – between 25 and 40 a year.
"My biggest issue with the abattoir in Prince George was that I was trying to sell local lamb to my customers but I had to take them 200 km to Prince George and back before I could sell the meat locally."
Edwards says his preference, however, would be to keep the farm gate permits available.
"It's solving a problem that doesn't exist," he says of the inspection regulations. "There's not a rash of people falling sick from eating meat that's been slaughtered on farms."
He says the regulations that prevent farm-gate sales take away choice from the farmers and the customer.
Dunster farmers Deb and Mac Cochrane have been operating with a farm-gate permit since July. They process chickens and some beef which they sell directly to customers in the Valley, without a government inspection. Farm gate meat, however, cannot be sold in restaurants or stores.
The Cochranes have not been producing enough meat to sell outside of family and friends. But if they do have to haul their animals again to a facility, McBride is preferable to Clearwater, Deb says.
"I think it's a good thing for the area," she says. "Anything that puts people to work and keeps local beef here."
Mac Cochrane says it makes little sense to haul cattle to Alberta so they can be trucked back to grocery stores locally.
"That's what used to happen to our lumber and now it's all going out. Comes back as lumber instead of being processed here. Look how much that's hurt the communities. This (the local slaughterhouse) is going to help the communities."
While Monroe Creek Meats is not set up for processing poultry, Monroe is in contact with a company that provides a mobile chicken slaughterhouse that could operate under his license once a month or depending on demand. Without a mobile slaughterhouse, farm gate permits may still be available for licensed farmers to slaughter chickens on their farms, depending on government assessment.